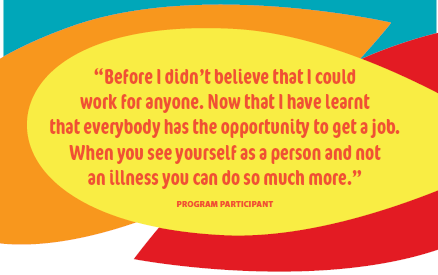 MIFWA has a large presence in the Perth metro area, however did you know we also deliver a number of services in the Wheatbelt?
Our WorkReady team recently visited Narrogin to facilitate the My Recovery Snapshot program.
The My Recovery Snapshot runs over two days and has many similarities to the full 10 week My Recovery. Both are facilitated by peers living with mental health issues, are delivered in a format using the Intentional Peer Support model, and allow people to learn about mental illness, identify their strengths and plan for the future.
However, the My Recovery Snapshot provides participants with a taste of strategies and topics related to recovery using up to date research and theories in a shorter period of time. This is helpful for people who aren't sure whether the full program is right for them, for those who can't commit to 10 weeks, or to introduce people to recovery concepts.
During the My Recovery Snapshot in Narrogin, participants had the opportunity to connect with others in their community who were living with mental health issues. They also got to share strategies that worked for them, as well as community resources.
After two days, those who had previously been strangers opened up to one another and grew closer. And on completion of the program, each participant received a certificate of completion and took home words of thanks and encouragement written by members of the group.
---
Share
Related Categories
Back to our Blog