We are proud of our team and workplace as we continue to create opportunities for our employees to learn and build their skill and practice.
Current Vacancies
1 Peer Worker x Full-time & 1 Peer Worker x Part-time
We are seeking multiple peer workers to be a part of our Active Recovery Team (ART). ART is a short-term program to link people who are experiencing mental health challenges into continuing care teams and services across Perth metro. This role will be based within a clinical setting of a community mental health team. Experience in similar environments desirable.
We have one full time position based out of the City East and Bentley Community Mental health clinics. We are also seeking someone to fill a part time position based out of the Armadale Community Mental Health Clinic. Both positions are fixed term contracts until 31 June 2022 with the possibility of extension at a Level 2 SCHADS.
Applications close 7 February 2022
To apply for these positions, click here.
NDIS Community Mental Health Worker open recruitment
We have an open recruitment process for our NDIS team.
If you are interested in joining our NDIS Community Mental Health Worker team, you can apply here.
What It's Like Working with MIFWA
At MIFWA, we aim to create a place where people THRIVE at Work, as we cannot do what we do without our invaluable workforce.
Community Mental Health Worker
Community Mental Health Workers provide practical support to people impacted by mental illness to assist with aspects of 'every day' life, assisting people to achieve their goals and build independence. This can involve assisting people with budgeting, cooking, household cleaning, grocery shopping, socialising, accompanying people to medical appointments and transport needs.
In the course of the role, Community Mental Health Workers will encourage personal growth by building a strong rapport, role modelling, fostering a sense of belonging, and acceptance.
Community Mental Health Workers are key to achieving MIFWA's mission and vision by genuinely working alongside people to achieve their aspirations.
Peer Mental Health Worker roles
Peer Workers are people who apply their lived experience expertise to their role in mental health. They can work across a number of areas in the mental health services. Their most common role is peer support, directly supporting people experiencing mental illness, or their family and carers, by sharing their lived experience.
Peer workers support people in their recovery and caring journey as well as improving the capacity of services and systems to do the same. The range of roles and functions a peer worker may undertake is growing. MIFWA has family and carer peer roles, as well as lived experience peer worker roles.
Living our MIFWA Values
Accountability – Individually and as an organisation, we are accountable and responsible for our behaviours; activities; decisions; outcomes; and are open and transparent in what we do.
Integrity – We demonstrate integrity by having the courage to do the right thing and stand up for what's right, being responsible for our actions, being honest and adhering to the highest ethical standards.
Inclusion and Acceptance – We acknowledge everyone's worth and dignity, regardless of background, abilities or beliefs; we demonstrate empathy, show consideration for one another, and acknowledge the value of others.
Collaboration – We work with others (individuals and groups) to achieve shared goals; sharing knowledge, learning together and building consensus.
Empowerment – We work to empower people and help them gain control over their own lives, fostering power in the individual to act on the issues they define as most important to them.
An Accredited Carer Employer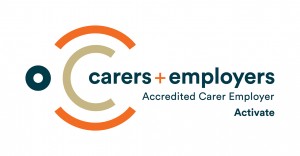 MIFWA is proud to be an Accredited Carer Employer.
MIFWA are committed to providing a flexible and supportive work environment to employees that also support a family member who is frail aged, has a disability, experiences mental health issues or a chronic illness.