Our Vision
To realise the potential of all Western Australians to recover from mental illness, to maintain mental health, and to live a meaningful life in their community.
Our Mission
To walk alongside people affected by mental illness, providing person-led recovery focussed support;
To promote acceptance and understanding of mental health in the community; and
To be a leader in innovation and systemic reform in mental health service delivery.
Our Values
Accountability – Individually and as an organisation, we are accountable and responsible for our behaviours; activities; decisions; outcomes; and are open and transparent in what we do.
Integrity – We demonstrate integrity by having the courage to do the right thing and stand up for what's right, being responsible for our actions, being honest and adhering to the highest ethical standards.
Inclusion and Acceptance – We acknowledge everyone's worth and dignity, regardless of background, abilities or beliefs; we demonstrate empathy, show consideration for one another, and acknowledge the value of others.
Collaboration – We work with others (individuals and groups) to achieve shared goals; sharing knowledge, learning together and building consensus.
Empowerment – We work to empower people and help them gain control over their own lives, fostering power in the individual to act on the issues they define as most important to them.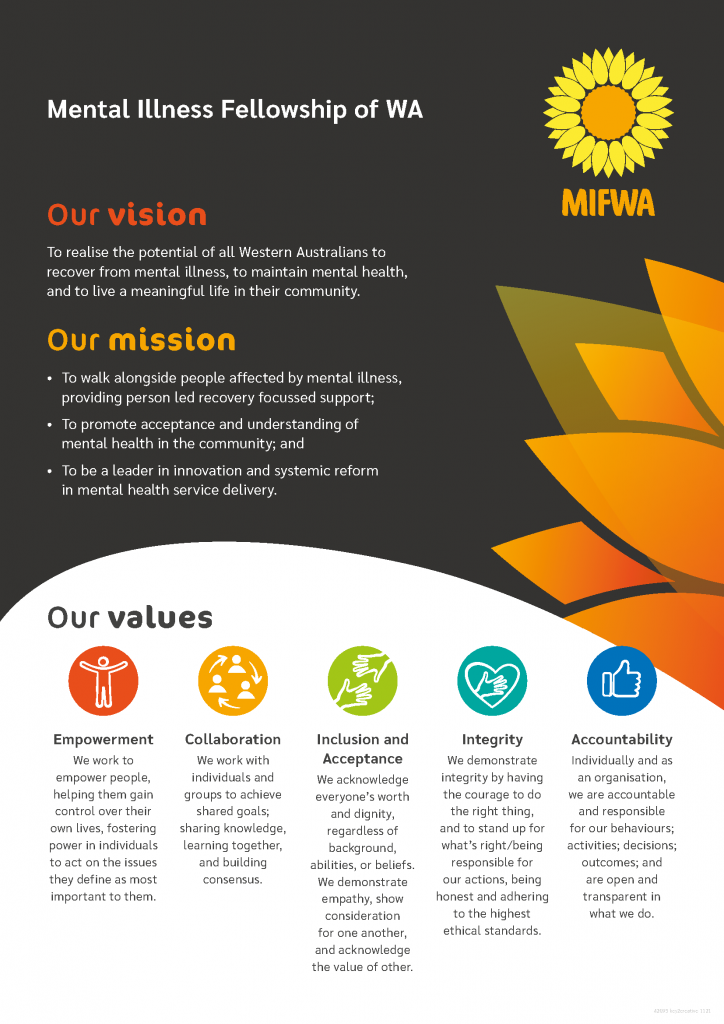 Our Strategy – 2021- 2025
As part of MIFWA's 2021-2025 strategy, we aim to:
Grow our NDIS services with a focus on financial sustainability and quality.
Make a systemic impact on Western Australia's and Australia's mental health system, keeping the needs of people we support at the centre.
Build capacity across metro, regional and rural areas of WA, focusing on community‑based services supporting families, parents, and carers.
Build a more effective, efficient, and contemporary organisation rooted in our innovative and empathetic past.
Be one of the Government's primary partners in WA, supporting people with mental illness and their families, delivering efficient and effective services and growing revenue streams.
Primarily, we will maintain focus on quality and building partnerships with our stakeholders to achieve our vision to realise the potential of all Western Australians to recover from mental illness, to maintain mental health.
A critical part of our new strategy is the inclusion of eleven strategic projects. These projects centre around our overall social impact, systems and efficiencies, workforce growth and development, and capacity
You can more about our strategy and strategic projects here.
MIFWA Constitution
Read MIFWA's Rules of Association.