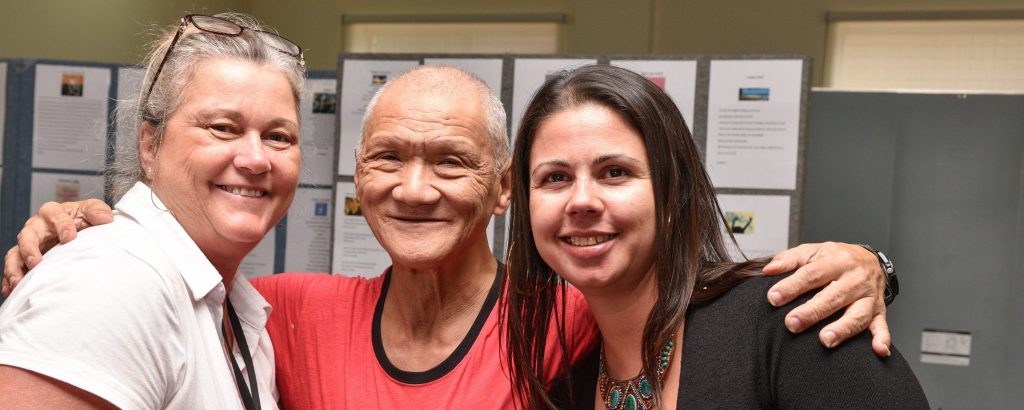 An Interview with Cara, Team Facilitator – Lorikeet Centre
Lorikeet Centre is a place for people to come for community and connection, a place where we can all learn from each other no matter our backgrounds.
Lorikeet is important because there are only a handful of places like this in WA. Growing up in the UK, I didn't know there were places like this. On moving to WA, I learned about these types of places and thought it would have been handy to have known about somewhere like Lorikeet in the UK!
What role does Lorikeet play in people's lives?
With the facilities, activities, outings, camps and everything else we offer, Lorikeet Centre helps people to reconnect and provides them with a sense of belonging and purpose.
Our members just love Lorikeet!
Being here helps them to reintegrate into the community. It also gives them a voice.
At Lorikeet, everyone has a say and we encourage everyone to take part in the running of the centre. I just love that. At the centre, we have morning meetings, which people love getting involved in. However not everyone can be there, so a few years ago I started a monthly members meeting that provides everybody who wasn't here during the day a chance to have their say and discuss matters that need to be addressed.
At Lorikeet, we have members from a variety of socio-economic backgrounds and cognitive levels; however, we get to know the person for who they are, not for their background or mental illness. I've found over the years that nobody really talks about his or her mental illness. That is, unless somebody is unwell or we are doing a recovery group and they feel they want to bring it up. We also get to learn about their journey – the lives they have lived, how well they have done in the past, how mental illness has affected them, and how they have recovered.
What changes have you seen in people?
You see so many changes in people who come to Lorikeet – you see people recover and you see people go up and down and up again. The journey is slow but you can really see the transition people make.
We had someone who, when she first came here, was quite depressed. Over the years, I have seen this person grow to the point where they have become involved with art therapy, create their own paintings, and have even submitted some of their artworks into exhibitions for mental health week at Leederville YMCA. To see that change, all because of coming to Lorikeet, has been amazing.
There is another person who didn't have any form of identification. She had lost everything. Her end goal was to get a passport, as she wanted to go on a holiday with her sister. Therefore, we started the lengthy process of getting her birth certificate, which started with getting photo identification, and then other forms of identification. We then put the whole lot together and she was able to get a passport. That process took about six months but made such a difference to her life.
And then we have people who come here each day just for lunch and to socialise . To me that is a sense of achievement. The fact that they can get out of bed and come here is amazing. It's those small things that aren't small for some that matter.
What is it like working at Lorikeet Centre?
I have been involved with Lorikeet Centre for six years, starting as a student, then a volunteer and finally an employee.
I love working here. It can be really rewarding, and is one of the most non-judgmental environments you can ever work in. I think that is important when you are working in mental health because there is so much stigma and discrimination, especially around mental health issues such as schizophrenia. After all, mental illness is just a small part of who the person is.
If you have an idea or you want to try to facilitate something, you can give it a go. I used to run a poetry group and I did a DIY skin care class. This really helps you as an employee to grow. I also gained so much out of my student placement here because I was able to just get stuck in – I learnt so much!
It's not everybody's cup of tea however. You do have to have a strong backbone, and you can't take anything personally, especially when people become unwell. You have to have resilience and an open mind because you are working with people with different personalities and behavioural issues. It can also be mentally draining at times, so as a team, we always debrief with one another. In addition, you need to look after your own mental health by knowing when to leave work and knowing what things to do outside of work to de-stress. However, for me, I thrive on that sort of stuff. I like being able to de-escalate situations, resolve situations and work with a variety of people.
My life has changed a bit for me as my visual impairment has worsened. I have had to learn to utilise my abilities and skills in different ways. It has been quite hard, but the one thing that has been good is that everybody here looks out for me – the staff and the members. If I bump into things, they don't get annoyed at me and they help out by making sure I don't walk into things. We have always had each other's backs and I think that is a huge part of where you work, because at some places, you can get lots of politics – there's nothing like that here.
What does the future hold for Lorikeet Centre?
We will continue to work as a team and continue to put our members first. We will also keep listening to what they say and to facilitate the groups they want.
I would love to see another Lorikeet Centre somewhere in WA. I think we need more places like Lorikeet because it has such a huge impact on people's lives.
To find out more about becoming a member of the Lorikeet Centre, call us or download an application pack:
---
Share
Related Categories
Back to our Blog