13 Oct 2020
09:30am-15:00am
The Hepburn Centre, 46 Highclere Blvd, Marangaroo WA 6064
Share
Come and enjoy some relaxing time out as we celebrate Carers Week by exploring the theme of self-care.
Join Reflective Visions art therapist Paul Davis as he guides you through the process of making your Self- Care Treasure Hunt Map.
Have some fun with this insightful activity and share lunch with your peers. No artistic skills or talent is required because we are not creating a masterpiece.This activity is all about the process, not the end product.
About Paul Davis
Paul is a qualified counsellor, educator and registered art therapist with 13-years of experience providing support services to carers, and over 20-years lived experience as a mental health carer. Paul provides a mobile counselling, psychoeducation and art therapy service. Learn more.
When: 9:30am-15:00pm, Tuesday 13 October 2020
Where: The Hepburn Centre
Cost: FREE – Lunch and art marterials will be provided
RSVP's essential. Email Trudy at trudy.young@mifwa.org.au or call 08 9237 8900 to register for this event.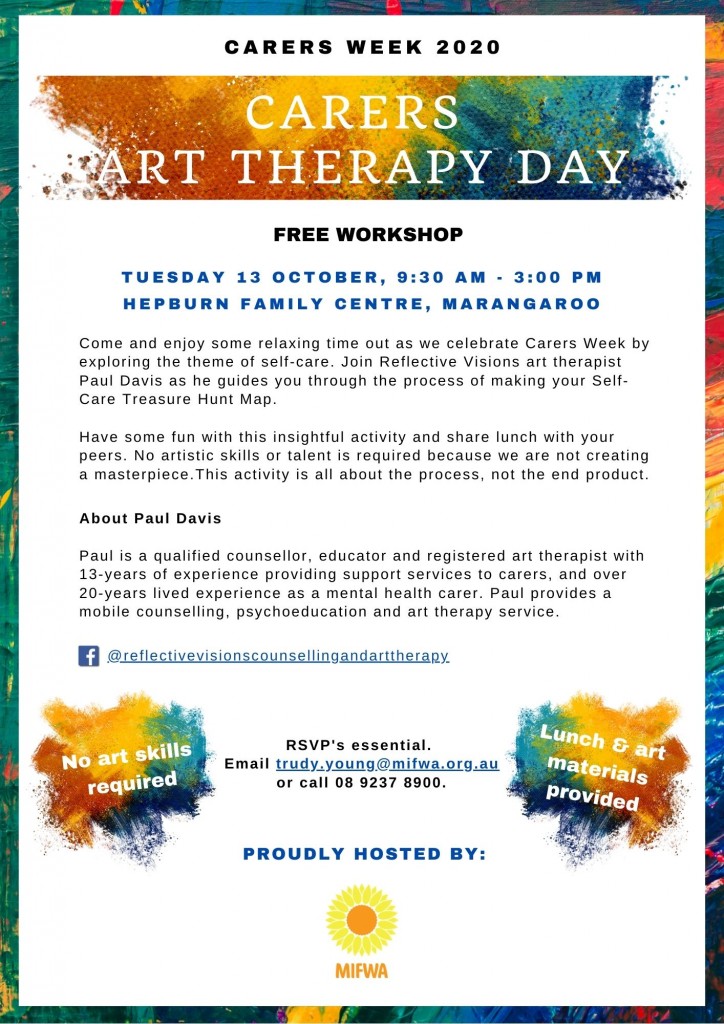 ---
Event Categories
Back to Events