15 Oct 2019
Tuesday 15th October
3.90am to 3.30pm
Hepburn Family Centre
46 Highclere Blvd, Marangaroo
Share
Carers Week – Wellbeing Day
Activities Include:
Art Therapy with Paul Davis: Art Therapist, Counsellor and educator
A guided and immersive creative experience using a range of supplied art materials, exploring self-reflective activities about your cultural identity that will build resilience and create meaning and hope. You will create an inspiring self-care journal to take away for continued.
Reflexology with Joanna Tarnicki: Reflexologist, Massage therapist, SCENAR therapist
An overview of the health benefits of Reflexology and potential to creat/increase connection with others. A practical demonstration on "how to" with the opportunity to practice the technique in pairs (on hands), all resources are provided with a practical guide to take home.
Guided meditation with Anne-Marie Johansen: Holistic counsellor & mind-body Medicine Practitioner
Learn about the health benefits of meditation, the different types of meditation and tips on how to  prepare to meditate and integrate your life. You will be guided through a seated introductory meditation that will focus on your breath and body. With take home resource/info pack.
Additional Information
For more information please contact Trudy on 9237 8900 or email trudy.young@mifwa.org.au
Refreshments will be provided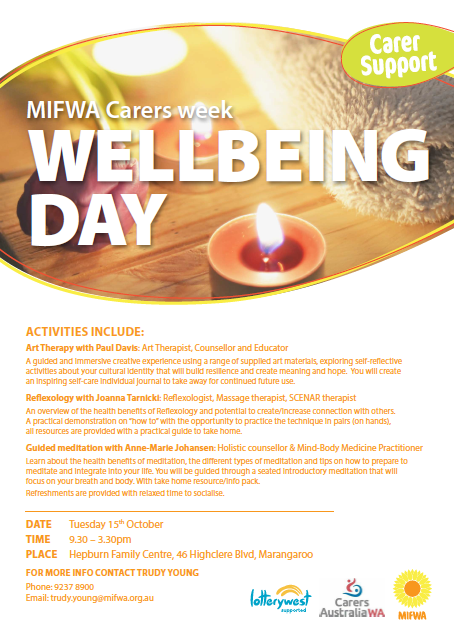 ---
Event Categories
Back to Events