25 Jun 2021
9am – 12pm
Anglicare Conference Room, 14 Council Ave, Rockingham
Share
A WAY OF NOTICING OUR EMOTIONAL & MENTAL WELLBEING.
A workshop for Carers in Rockingham using an interactive, hands-on tool and resources to assist in attaining and maintaining mental health and wellbeing. This is an empowering workshop that can complement and build on your strengths.
When: Friday 25th June, 9am – 12pm
Where: Anglicare Conference Room, 14 Council Ave, Rockingham.
To register for a place please contact: Robyn Stone on 9237 8900 or robyn.stone@mifwa.org.au.
Topics explored are:
• Being Connected
• Being Healthy
• Being Active
• Being Satisfied
• Being Organised
There is also time and space for self-reflection, and an opportunity to create your own tailor made mental health and wellbeing plan.
Feedback from previous workshops:
"This workshop has given me the ability to move forward."
"A great opportunity to ponder self-care."
"This highlighted my strengths which gave me a sense of empowerment and self control."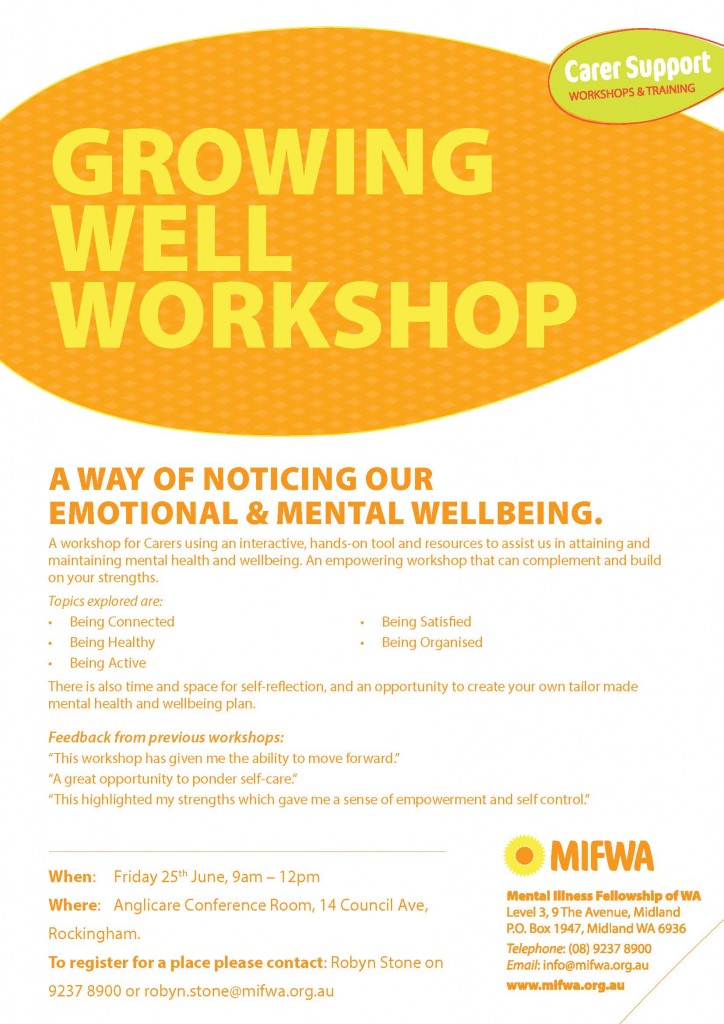 ---
Event Categories
Back to Events