11 Oct - 12 Oct 2018
Thursday and Friday 11th & 12th October
9.30am -4.30pm
MIFWA
Level 3, 9 The Avenue Midland
Share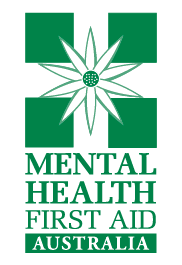 Cost: $300
Morning and Afternoon teas is provided. Please bring your lunch.
What the Course Covers
First Aid course teaches people (18 years and over) how to offer initial support to adults who are developing a mental health problem, experiencing a worsening of an existing mental health problem or in a mental health crisis, until appropriate professional help is received or the crisis resolves.
Course participants learn about the signs and symptoms of the common and disabling mental health problems, how to provide initial help, where and how to get professional help, what sort of help has been shown by research to be effective, and how to provide first aid in a crisis situation.
Developing mental health problems covered are:
Depression
Anxiety problems
Psychosis
Substance use problems.
Mental health crisis situations covered are:
Suicidal thoughts and behaviours
Non-suicidal self-injury (sometimes called deliberate self-harm)
Panic attacks
Traumatic events
Severe effects of drug or alcohol use
Severe psychotic states
Aggressive behaviours.

---
Event Categories
Back to Events