24 Nov - 25 Nov 2022
9.00am to 4.00pm
Boddington Community Resource Centre, 20 Bannister Road, Boddington, WA 6390
Share
We invite you to join us for free two-day Mental Health First Aid training in Boddington on 24 and 25 November.
Learn skills and gain confidence in supporting people experiencing mental health challenges.
Mental health first aid is the help provided to a person who is developing a mental health problem, experiencing a worsening of a mental health problem, or is in a mental health crisis.
When: 9:00am – 4:00pm, 24 and 25 November 2022
Where: Boddington Community Resource Centre, 20 Bannister Road, Boddington, WA 6390
Cost: Course is free (normally $350 p/p) – morning tea & lunch $20
Contact: Boddington CRC on 9883 8246 or or reception@boddingtonoldschool.org
On completion of the post-course assessment, participants will be accredited as a Mental Health First Aider for three years.
This free training is proudly supported by MIFWA, CBH Group and Boddington CRC as part of the CBH Regional Mental Health Program.
Download the flyer for Standard MHFA Boddington 2022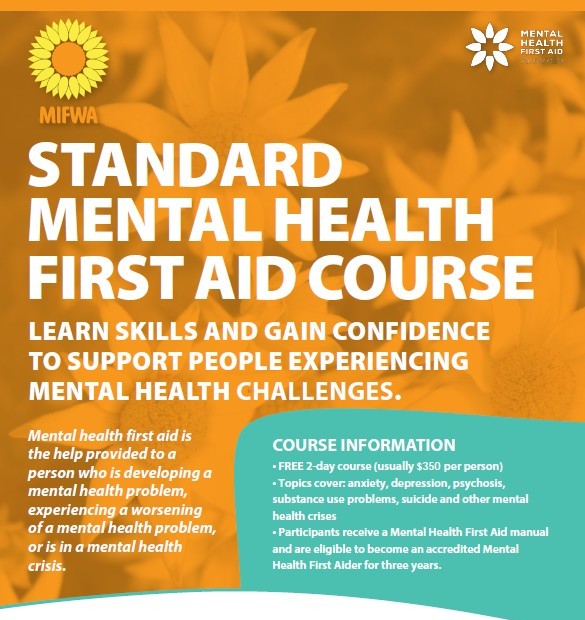 ---
Event Categories
Back to Events