16 Feb 2021
Tuesday 16 February 2021 for 12 weeks until 4 May 2021
6:00–9:00pm
Hepburn Family Centre, 46 Highclere Blvd Marangaroo 
Share
The Wellways Building a Future program aims to increase the capacity of families, carers and friends to care effectively for themselves, other family members and their relative living with mental illness.
Taking place over 12 consecutive weeks, Wellways Building a Future is an educational program held in an informal setting involving group discussions, DVDs, and practical demonstrations.
DATES: Tuesday 16 February 2021 for 12 weeks until 4 May 2021
TIME: 6:00–9:00pm
VENUE: Hepburn Family Centre, 46 Highclere Blvd Marangaroo
WellwaysBuilding a Future participants have the opportunity to:
Gain increased knowledge
Gain new ideas and coping skills
Gain increased confidence
Share experiences and learn from others
Develop ongoing support mechanisms
Topics include:
anxiety
depression
bi-polar disorder
schizophrenia
obsessive compulsive disorder
schizoaffective disorder
dual diagnosis disorders
mental health and carer services
For more details and to secure a place in the Wellways Building a Future program, please contact MIFWA on 9237 8900 or email
robyn.stone@mifwa.org.au.
"The Building a Future Program gave me hope. Hope I wasn't alone and that there were better possibilities in the future. I had finally found people who understood what I had been going through. We shared, we cared, we cried, we laughed together, and we supported each other. I had finally found my tribe and we have stayed in touch since."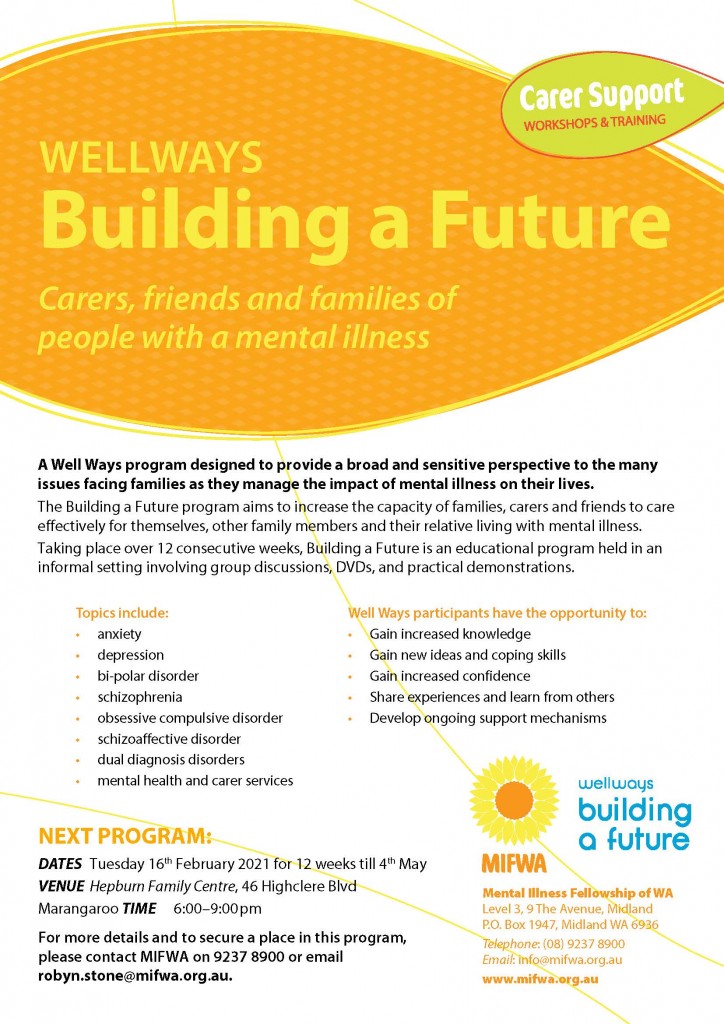 ---
Event Categories
Back to Events