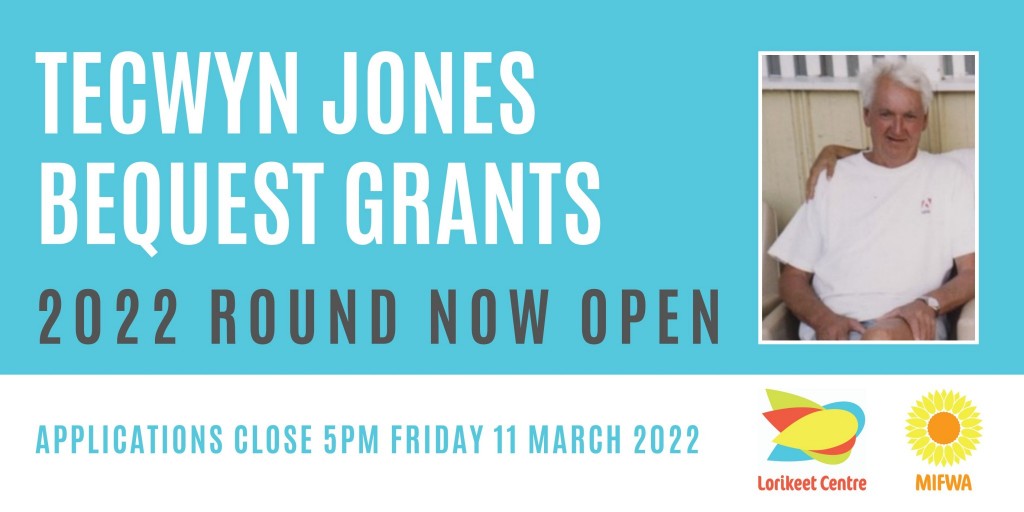 Every year we issue Tecwyn Jones Grants for people impacted by mental illness. These grants of up to $1000 make a massive difference in people's lives. 
Tecwyn was a member of MIFWA's Lorikeet Centre from its beginnings in 1994. He regularly attended the weekly lunches in the days when the Mental Illness Fellowship of WA (MIFWA) was the Schizophrenia Fellowship of WA. He was a popular and generous member, and had a keen interest in all people.
Tecwyn had a passion for travel and was well informed regarding world events. He enjoyed the friendship and support he received through the Lorikeet Centre, and MIFWA and regarded all who attended as members of his family.
When Tecwyn passed away in 2004, he bequeathed a generous amount of money to MIFWA, to be shared equally between the Lorikeet Centre in West Leederville and the Mental Illness Fellowship of WA. Since 2004, these funds have been invested and the interest from the investment has been used across both services.
Annual Tecwyn Jones Bequest Grants
The MIFWA Board of Management decided in May 2007, that the interest from the Tecwyn Jones Bequest Grants investment, would now be used to set up an annual grants program to benefit people with mental illness, and the carers/families of MIFWA.
In setting up the Tecwyn Jones Bequest Grants Program (TJBG), we hope to pay ongoing tribute to Tecwyn's memory through the provision of regular annual grants which will benefit consumers and Carers/Family who are recipients of MIFWA's services.
How the grants work
The maximum amount that can be applied for is $1,000 per individual/couple.
Examples of activities previously approved include attending a conference, enrolling for a training course, purchasing a musical instrument, a short respite break for a Carer/Family, purchasing resources or books etc.
2022 Round is now open
To be eligible to apply for this grant in 2022, you are required to have become a MIFWA member prior to 31 December 2021.
How to apply
If you need help writing your nomination, please ask a team member for assistance.
Online via:
Tecwyn Jones Bequest Grants online application form
By post:
Complete the 2022 Tecwyn Jones Bequest Grant Application Form
Mail it to:
MIFWA
PO Box 1947
Midland Business Centre WA 6936
In person:
Complete the 2022 Tecwyn Jones Bequest Grant Application Form
Deliver to:
MIFWA
Midland Professional Centre
Level 3, 9 The Avenue (Cnr Keane St & The Avenue) Midland
By email:
Complete the 2022 Tecwyn Jones Bequest Grant Application Form
Scan it and email it to alison.nesbit@mifwa.org.au
---
Share
Related Categories
Back to our Blog