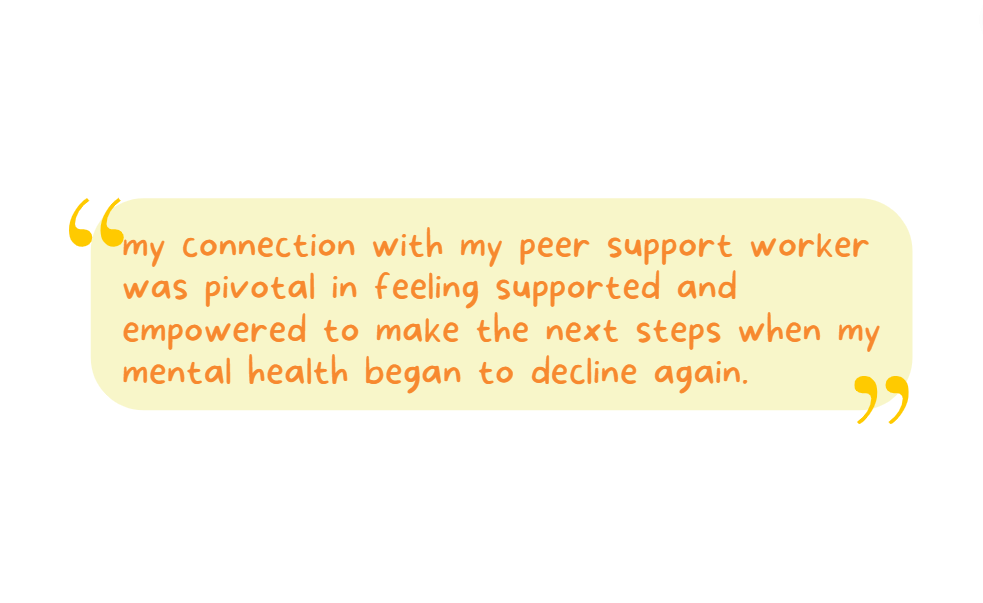 Our Hospital to Home team supports people when they're returning home and into the community after a hospital stay that was due to mental distress.
A participant who we supported recently shared the following with us:
"The Hospital to Home program has been incredibly impactful for me. For someone with a limited support network, it's been wonderful getting to catch up and talk with someone who gets it. It's made me feel less alone in my experience and has allowed me to be more comfortable in my own story.
I love being able to share my experiences with someone who understands and can relate to it in some sense.
It's great to have someone to bounce ideas off and can provide a bit of a sounding board. Beyond this, my connection with my peer support worker was pivotal in feeling supported and empowered to make the next steps when my mental health began to decline again.
Never did they let me feel like I was a failure nor that I was a burden when I was going through a difficult patch. I'm really grateful for the program and my peer support worker."
More about Hospital to Home at:
mifwa.org.au/our-services/peer2peer-hospital-to-home/
---
Share
Related Categories
Back to our Blog