In recognition of Mental Health Week and Carers' Week, a two day Daring Way, Building Resilience workshop was delivered at the Narrogin Community Centre.
Facilitators Sue Crock and Julie Loveny, of This Working Life, delivered the workshop, written by renowned research professor, author and TED Talk speaker Brené Brown.
Eight people attended; from the Wheatbelt area, some carers, some support workers and some with lived experience of mental illness.
The workshop generated transparent, raw and challenging discussions about topics such as vulnerability, courage, shame and worthiness and how it affected our lives. Participants were invited to be brave enough to show up and step in to the arena – any arena, big or small.
One participant shared that her arena was built around the humble coffee cup, this generated numerous belly laughs during the workshop which was a great pressure relief to the sometimes difficult topics such a grief and loss.
The centre was expertly managed and MIFWA is grateful to Giere Kami, (Gigi) who was very generous in opening up early for us and printing off some resources. Gigi also arranged a lovely morning tea and had the local "Golden Oldies" provide lunch, which was good old fashioned country food at its finest.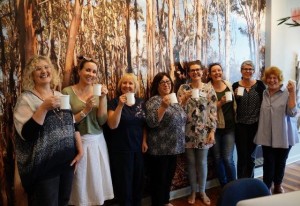 Some of the feedback included:-
"Most courses tell you the 'what' part of mental health — this felt more like a vaccination against falling into mental health holes and I really believe prevention is better than cure,"
Another attendee praised the workshop and said more needed to be put in place.
"I feel it's profoundly important for everyone, particularly people in caring or support roles to have opportunities to learn about the importance of self-care, self-compassion and support systems to prevent burnout," they said.
---
Share
Related Categories
Back to our Blog