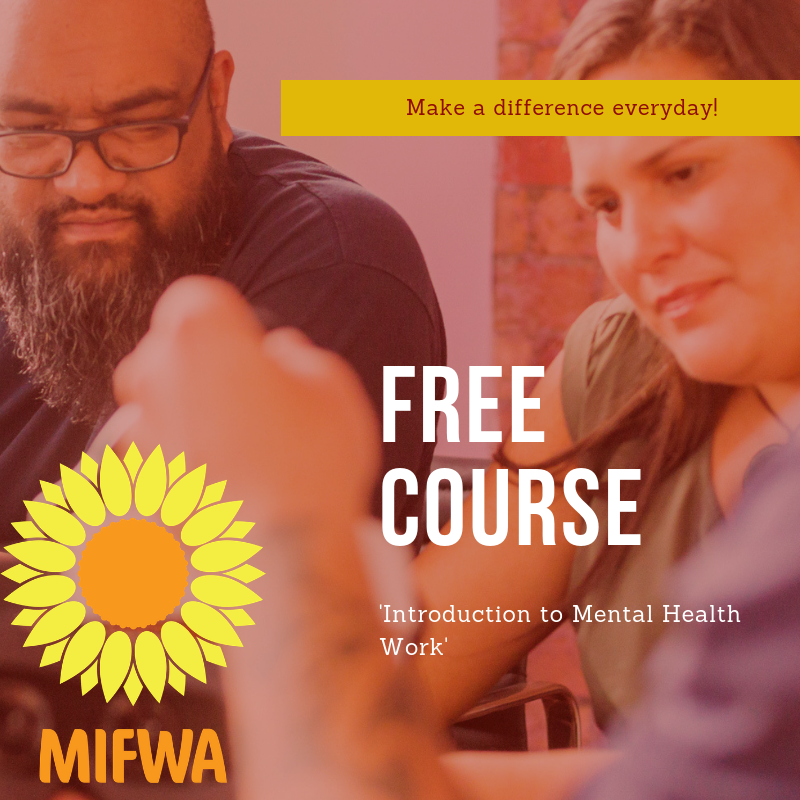 Introduction to Community Mental Health – Free Course
Some of our most capable and valued workforce came to MIFWA with no formal qualification. They did commence with a strong passion to make a difference and we invested in supporting them to succeed. Community mental health work is not for everyone. If making a difference in people's lives drives you, if you can be with a variety of people without being judgemental and are genuinely interested in understanding different perspectives and experiences, if you are creative and adaptable … then this could be a great career for you.
We are offering a free four day training course for people interested in pursuing mental health work. It focusses on providing knowledge and key concepts to build confidence and capabilities to apply and/or progress to formal qualifications.
If you want to find out more about the free training course contact us on training@mifwa.org.au
Andrea Ledbury, Community Mental Health Worker tells us about her work
I've worked at MIFWA for about seven years now. I used to be MIFWA's information officer and now I am a community mental health worker. I mainly work with people who live in hostels in the Midland area, however I also go into people's homes to provide them with one-on-one support.
What is it like working at MIFWA?
MIFWA is like a little community within itself. I really like working here – it's a relaxed and supportive place to work.
One of the biggest challenges is knowing that you can't do everything for everyone. The other is helping people to see that they have a great future and to not give up.
How does MIFWA work with people?
At MIFWA, we work in partnership with people, walking alongside them on their journey, with respect and dignity. However they need support, that's how we'll support them. And if we don't know how to support them, we'll ask how they would like to be supported. It's not our rules. It's not the community's rule. It's what they want.
MIFWA isn't an organisation who thinks "we know everything". At MIFWA, we know we don't know everything, and we are always willing to learn. We're also not afraid to reach out to other organisations to get ideas, for support and to collaborate.
What are some of the secrets to MIFWA's success?
It's the people who work for MIFWA that make it a success. Everyone who works at MIFWA has been impacted by mental illness in some way, be it a friend, family member, or personally, and this makes such a difference in what we do, the reasons we do it, and how we work with people.
At MIFWA, everyone is free to grow, and everyone is free to experience emotions. If you're having a bad day, the team here don't judge you. Instead, they rally around, ask if you okay and how they can help.
During my time at MIFWA, we've had two CEOs, and I think we've been lucky with both because they have been genuine people who really do care about what they do. It's not just a job to them – they live it!
Tell us about your work with the NDIS?
I also work with people who have tailored NDIS support plans. I get allocated a given number of hours a week to support people with what is in their plan. This could include taking them shopping, on excursions, or to activities such as yoga. I also try to link them with an OT, psychologist and so on.
Everything we do as part of the NDIS, and in general, is centred around supporting people to work towards achieving their goals. And it's not us or the community, it's about what they need. Listening is so important. You need to listen to what they want. If their goal is to get out into the community and to have a coffee somewhere, that's what we'll do. Eventually, we'll try and build on that so they can start meeting us at the coffee shop rather than us picking them up and taking them there. We also encourage and support people to use public transport. Some have never caught public transport and others had, but because of their illness, no longer have the confidence. People underestimate the impact of getting on the train and knowing that you have to get off at a station. It's building their confidence up to motivate them to get up in front of everyone and to press the button on the door to get out. It's those little things that have a big impact.
Can you share a memory or a success story from the last 7 years?
In my role as Information Officer, I was the first port of call for people who came to MIFWA. At times, someone would come in experiencing psychosis.
There was a young person who I had previously known who was experiencing a psychotic episode, and yet remembered us and managed to get herself to MIFWA to ask for me. She was very skinny and had been impacted by drugs and a bad relationship. I welcomed her in, sat her down and made her a cup of Milo. We spoke for a while and then, with the help of another colleague, we took her to hospital to get the care she needed. From there she was referred to a refuge and now she's completely clean, has completed her mental health certificates and is working in the industry. I see her all the time and she looks fantastic. That's one of my best memories.
To find out more about MIFWA and the NDIS, get in touch.
---
Share
Related Categories
Back to our Blog