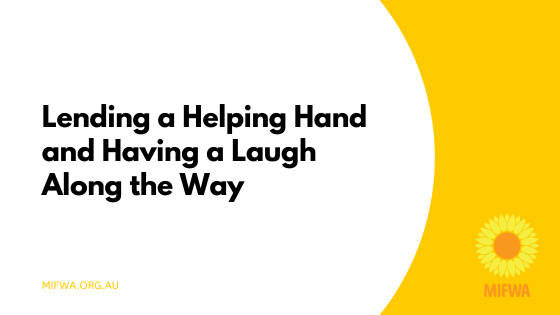 At MIFWA, we have a small team of dedicated people passionate about supporting individuals who have experienced mental illness, as well as their families and carers. In this series, we're continuing to introduce you to some of the team who work with MIFWA.

My name is Brenda, and I've been a Mental Health Community Worker with the Mental Illness Fellowship of Western Australia (MIFWA) since January 2020.
My role involves supporting people step by step to achieve their goals. We work together as this is their journey, and so I encourage clients to self-advocate for the supports they need to be comfortable and to live life.
I'm genuine in my approach, and with that change can happen. For me, it's about listening first without judgement, and giving a helping hand to say it's going to be okay.
I give hope to all my clients, and the tools to feel empowered. Along the way, we'll have a laugh.
What attracted you to work with MIFWA?
Honestly, what attracted me to MIFWA were the values and integrity of the organisation, as well as the professionalism and genuine heart to support people in the community. I believe and uphold the same values.
What were your first impressions of working with MIFWA?
My first impression of MIFWA was how supportive all of the staff were and their huge smiles. I was also instantly welcomed by our CEO, Monique. I finally felt I belonged.
I've stayed because I feel MIFWA genuinely cares for their employees and our wellbeing. I feel valued and appreciated – not micromanaged, and I have the best coordinators. They are just a call away for support when needed.
What are some of the challenges you have faced in the role?
When challenges happen, I debrief with my coordinators. With their reassuring words and positive feedback I feel I'm not alone and am able to reflect in a positive way to better understand what is happening so my clients feel respected and safe.
I really appreciate the phone support I receive from the MIFWA team. Their support makes me feel valued and respected and means so much to me.
Why do you think it is important that MIFWA promotes mental health awareness in the wider community?
Mental health awareness promotes a sense of belonging and safety without discrimination and judgement.
Describe your experience of working with MIFWA in three words.
Valued. Appreciated. Genuine.
Join the MIFWA Team
We have an open recruitment process for our NDIS team. If you are interested in joining our NDIS Community Mental Health Worker team in Perth, apply now!
---
Share
Related Categories
Back to our Blog