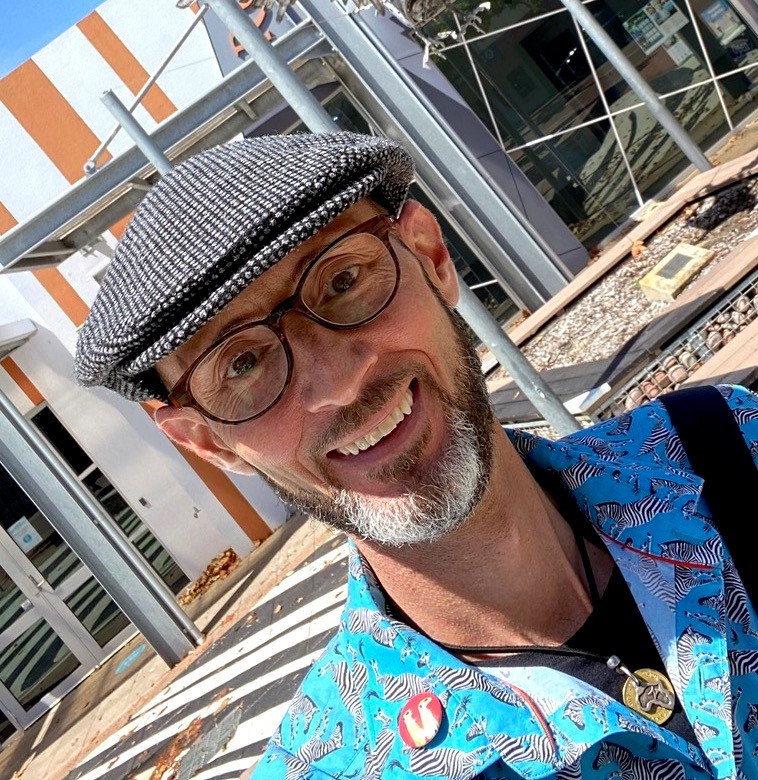 With thanks to generous donations from the CBH Group Harvest Mass Management Scheme (HMMS) and t
he

Western Australian Association for Mental Health (

WAAMH)

, MIFWA and  Reflective Visions have been facilitating a series of art therapy workshops in Northam to assist people to use the power of art to promote mental health and wellbeing.

Here's Paul K Davis AThR from Reflective Visions to tell you a little more about the program.
Tell us about the C
reative Resilience workshop
 series in Northam?
It was always part of my business plan to collaborate with non-profit organisations to provide free art therapy to disadvantaged people and those living in regional areas. 
When MIFWA received the CBH Group HMMS Donation I developed the Creative Resilience series of workshops so I could combine key concepts from Positive Psychology, Acceptance and Commitment Therapy (ACT) and Mindfulness-Based Stress Reduction (MBSR) with art therapy.  
Each workshop focuses on a particular concept, with participants using a visual diary to make quick, spontaneous art and reflectively write, before using a huge range of art materials to creatively express one particular idea or feeling. Participants then reflect on and talk about their art – if they want to. Most participants get to finish a creation which serves as a reminder of the insights they gained about themselves and their lives during the workshop.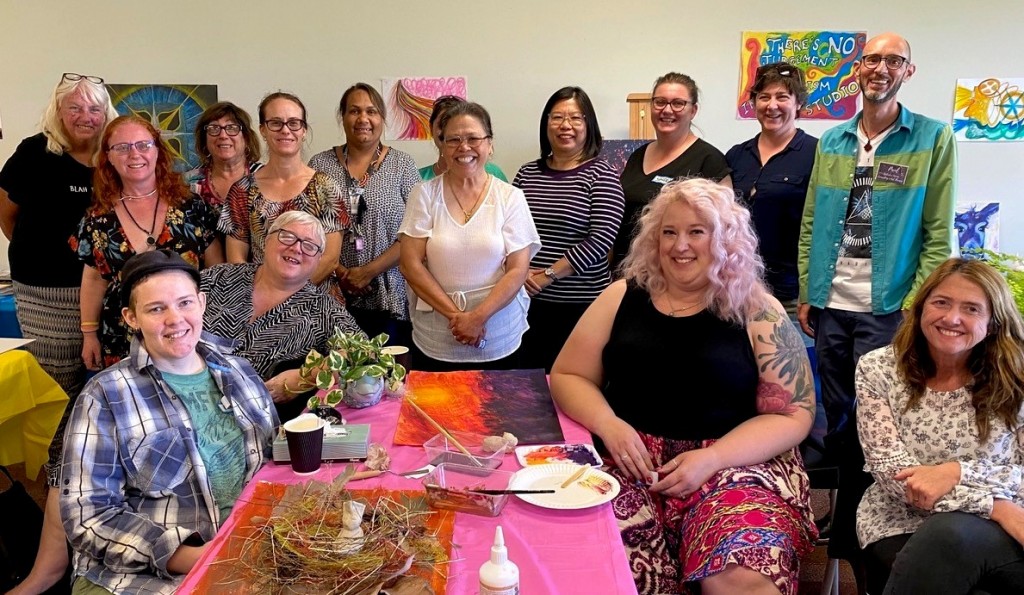 You've held two Creative Resilience workshops so far. What are some of the highlights?
Like myself, others have recognised the need for more mental health prevention and support services in regional WA. It's great to see that alongside CBH Group and MIFWA, WAAMH and the Shire of Northam have also contributed. This has helped us expand the program to include art journaling workshops for young people in the future.  
I love when activities and art materials cause people to change gears and gently explore the ideas and feelings that come up for them. It's incredible when participants are proud of their finished artwork and don't care what others think of it because it's a personally significant image that speaks to them and no one else.  
I'm very happy with how the workshops are going so far. We've received fantastic feedback with participants really appreciating the relaxed, safe and visually stimulating studio space I create. When people say things like "You have no idea how much these workshops have helped me" and, "What I have learned today will have an impact on me possibly for the rest of my life", that's when I think, my work here is done.  
It's such a privilege to be able to run this Creative Resilience series. I'm grateful to Janine and Sam from MIFWA who have helped make this happen, and I'm especially grateful to the sponsors CBH Group, WAAMH and the Shire of Northam. 
What is art therapy

 and w

hy is it beneficial to people's mental health and wellbeing?
Art therapy is part of the broader group of creative arts therapies which includes music, dance, drama and writing. Art therapists use creative processes such as drawing, painting and sculpture within a therapeutic relationship to support emotional, cognitive, physical and spiritual wellbeing. I have first-hand experience of the incredible power of art therapy through my work at The Royal Melbourne Hospital's rehabilitation ward and the numerous workshops I have facilitated. I've worked with people who are living with the effects of: traumatic loss; depression; anxiety disorders; addictions; Meningococcal Disease; Multiple Sclerosis; stroke; suicide attempts and; ambiguous loss. In these situations I have been able to use art therapy to help people express and make meaning of their shattered worlds and live well despite the challenges they faced.   
A common myth about art therapy is that people need to have some artistic skills or inclination to do it. Art therapists can support and guide people through huge range of activities with various art materials. The experiential and tactile nature of these materials can provoke a therapeutic response or develop insight without necessarily producing a finished piece of art. Another myth about art therapy is that art therapists interpret the art people make. Art therapists help people make art and then, through a series of questions, assist the person to make their own meaning. This process often leads to insights about how their ideas and beliefs effect their daily lives and provides a space, or canvas if you like, for them to explore choices and try out options.   
How did you get into art therapy?
Throughout life I have always made art of some form or another. As a kid I loved drawing portraits of my favourite 80's pop stars and designing record album covers. In the 90's, I studied art at TAFE before changing track to study film and photography. Then one day I woke up and was compelled to use plates and bowels and a ruler to make a series of large mandalas or symbols, and I don't think I even knew what a mandala was at that time. I then discovered sacred geometry and was inspired to make what I called cosmic abstract art for friends and family as presents.  
After studying an art therapy subject as part of my graduate diploma of counselling in 2004, I was sold. I sought to incorporate basic art therapy into my counselling practice wherever I have worked. In the last fifteen years, I have used spontaneous and planned art making to manage challenging emotions and to deal with a traumatic event that occurred in 2006.  
When I worked for ARAFMI (now Helping Minds), I was lucky enough to meet Danita Walsh at the Creative Expression Centre for Arts Therapy (CECAT), at Graylands Hospital. We organised for Danita to facilitate four sessions of group art therapy for mental health carers and I got to participate! I experienced some pretty amazing self-realisations during those group sessions and was motivated to use art therapy more often.   
As an outreach mental health worker for Ruah Community Services, I supported clients by facilitating large graphic representations of their recovery goals through a process called Map and Path. I also facilitated a drama and film club for the Ruah clients – but that's another story.  Around the time some friends and I started having crafternoons and I noticed I was always encouraging my friends to set aside their inner critic and make art spontaneously. In 2016 I decided to take a break from the mental health sector and headed to Melbourne to complete a Masters Degree in Art Therapy, at La Trobe University. This was one of the most amazing experiences of my life and is expressed in my 3D artwork titled "Mind Officially Blown".  
I returned to Perth and decided to start Reflective Visions, my mobile counselling and art therapy practice. Reflective Visions aim is to help people live well with mental illness symptoms, grief and trauma by providing evidence-based therapies that support personal transformation and build resilience.   
How did you get involved with MIFWA?
Shortly after I began providing counselling to carers of people with mental illness in 2005, I realised that I was a carer myself. I'm not your "typical" family carer, but that's another story too.  
My involvement with MIFWA started in 2008 when I participated in the Wellways Building a Future program. I completed the training to be a Wellways facilitator in 2009 and have since facilitated a number of Wellways courses and now coach new facilitators. It's such a brilliant peer support and psychoeducational program – I love it!
The Carer Support team at MIFWA's were glad I returned from Melbourne and Trudy was quick to utilise my new-found skills by employing me to facilitate two art therapy workshops during Carers Week in 2019.  Since then, I've facilitated five more workshops and I'm grateful for the opportunity to share art therapy with so many through MIFWA.    
When is the next Creative Resilience workshop?
The next Creative Resilience workshop will be held in May 2021 (further details to be advised). To register your interest, contact Paul on 0497 296 169 or email reflectivevisions88@gmail.com. 
About the Paul K Davis AThR
Paul K Davis AThR is a qualified counsellor, educator and registered art therapist with over 20 years of experience working creatively in the community services sector. Reflective Visions is Paul's mobile counselling and art therapy service.
You can connect with Paul here:
---
Share
Related Categories
Back to our Blog