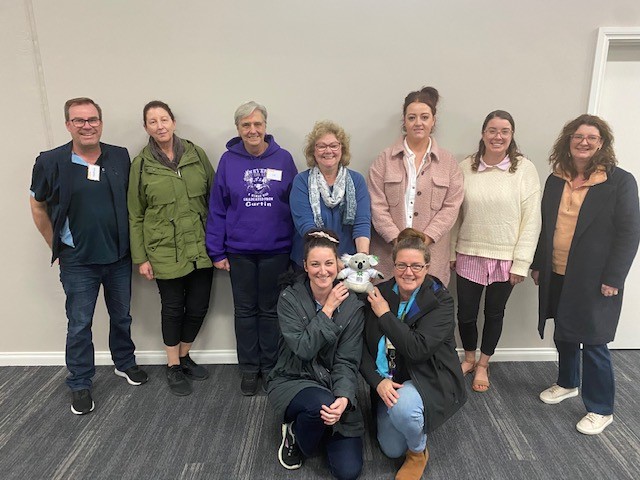 This article was written by Joyce Vidot, training manager at MIFWA
(pictured in the middle of the back row with students from Northam)
When I completed the two-day Youth Mental Health First Aid (YMHFA) course in October 2019, I became a youth mental health first aider and one of the only two trainers at MIFWA qualified to deliver the course. This was an exciting step in my career, as I wanted to help prepare others who were supporting young people.
Sadly, due to the COVID-19 outbreak and lockdowns that followed, I never got the opportunity to deliver my first solo course until recently in Northam on 26 and 27 July 2022. My students were a mixed group of teachers, community members, shire representatives, and participants from other walks of life.
The YMHFA course offers resources, steps and strategies students can apply at work and at home with young people who may be facing mental health issues.
What a wonderful group of people to be able to have as my first YMHFA students.  They were eager to learn, and they engaged in all the activities with enthusiasm.
This feedback from one participant confirms that my first course had gone beyond my own expectation:
"Joyce was amazing to work with and explained and demonstrated great skill in the topic. She engaged with the group on a personal level as well which was nice to hear her story through mental health."
As a trainer, I'm passionate about supporting young people, and I know how important it is for them to get support when struggling with mental illness. Often the symptoms of mental illness can look like an adolescent experiencing change, so having the conversation to identify how we can help can be crucial.
I also know it can be more difficult for young people in regional communities to get access to this kind of support, which is why at MIFWA we aim to offer more training to give these crucial knowledge and skills to the people who work with and care about young people in our communities.
Upcoming Youth Mental Health First Aid dates:
The Youth Mental Health First Aid (YMHFA) course is open to anyone who wishes to learn the signs and symptoms of common mental health problems experienced by young people, what sort of help has been shown by evidence-based research to be effective, and how to provide mental health first aid in a crisis.
Students who complete their YMHFA course with MIFWA receive a 30% discount when they return to do the Refresher to renew their accreditation.
Book your spot for:
Or view What's On for other training opportunities.
---
Share
Related Categories
Back to our Blog