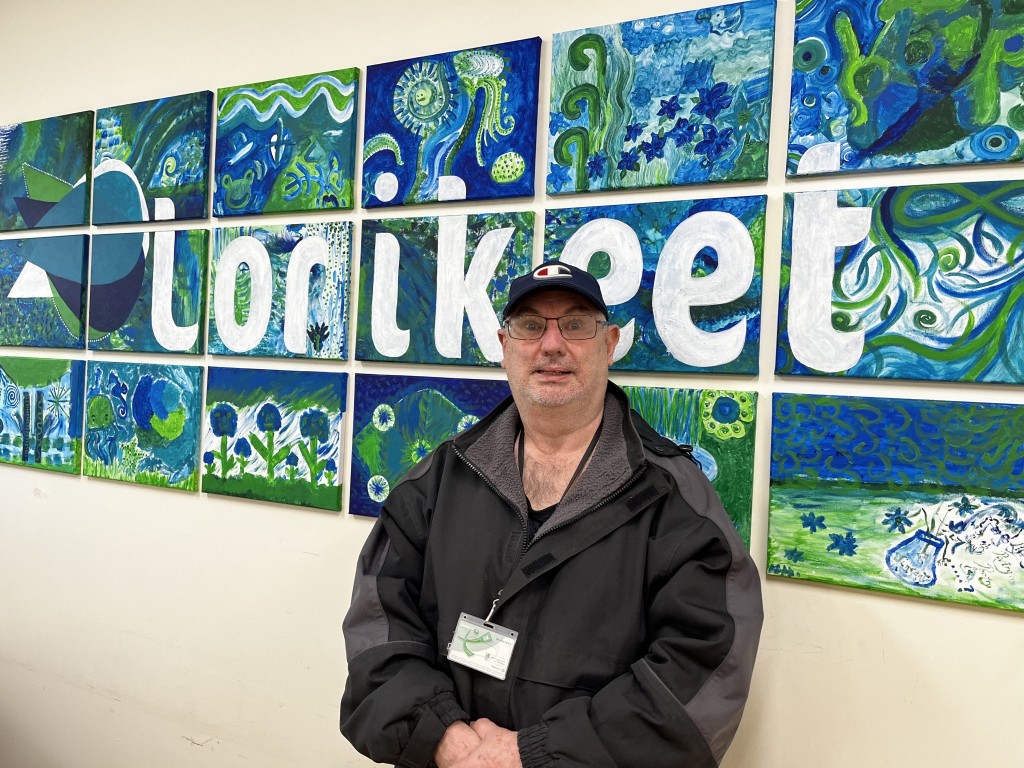 When Craig, 58, discovered the Lorikeet Centre, his life started to take a positive turn.
He recently sat down with us to talk about the benefits of joining the Lorikeet community and how he's been feeling better and therefore hasn't been in hospital for quite some time.
When did you first find out about Lorikeet Centre?
It was a long time ago. About two years after it opened. That's how long I've been a member. I was in hospital, I heard about Lorikeet Centre, and I thought, "Okay, go and find out about it." I was quite impressed. We were at the old place in Shenton Park, and we were there for quite a few years. I used to go in about twice a week. May have even been more than that. I used to volunteer in the kitchen part there.
You kept participating after it relocated?
Yes. Over the years, I've been coming here on and off, and I volunteer in the kitchen here as well as a kitchenhand, which I've quite enjoyed. I used to be a painter and decorator for 19 years until I gave that up. I've done a few other things like retail, did a couple courses, and I've done commercial cookery. I have probably spent more time at Lorikeet Centre than I have at home.
What first brought me in here was through being a painter. I worked for a guy for about three years, and I shifted out to Kalgoorlie with him. I gave up everything to go out there. I had my car stolen and I went to a friend's place for Christmas time and… yeah… my health didn't go so well.
I was cleaning up my unit and I just was full on doing that. I got inside my unit, and I just flipped off completely and fell asleep on the couch. People were wondering how I was, and the ambulance and the police came. Next thing I was in hospital for about four days under voluntary.
I've since been really good. I haven't been in hospital for two or three years now and that's good for me.
What do you enjoy the most about coming to Lorikeet Centre?
They've got a photography group, which I get involved with. Not too much to cook anymore, the staff are doing that. And other groups. I'm interested in art, having been a painter, so having that field there. Art's different, but enjoyable. It's therapeutic for me.
What's the most significant change you feel has happened in your life thanks to the community you've found at Lorikeet Centre?
Well, I don't see a psychiatrist anymore. So, that's a bonus for me because I've been let down by the mental health system. So, I thought, excuse my English, "F- them, and I'll do my own thing." I go and see the doctor and I've been steady on medication for quite a while now.
About 16, 17 years ago, I attacked my father. Not something I'm proud of. Only because the medication didn't work. And after that I got in the hospital again for a good while. Then I had to do some work on myself and do counselling to get back on better terms with my father, which is one of the best things that's happened to me doing the counselling. And now we're talking, although he's still got a VR on me. We're fine, and there's no way I'm ever going to do that again. I'm not that stupid.
I'm more solid now than what I ever have been.
—
With a new lease on life, Craig hopes to start up an art business, get a home of his own, a nice car and get married again.
About Lorikeet Centre
Lorikeet Centre has been supporting people living with mental illness for 27 years. The centre is underpinned by the importance of peers, providing a place for people to go without judgment, and to be set up with supports if they are in need.
Lorikeet Centre is located at 104 Cambridge Street, West Leederville 6007. To find out more, call us on 9237 8951.
---
Share
Related Categories
Back to our Blog