23 Jun - 30 Jun 2020
Day-1 Tuesday 23rd June & Day-2 Tuesday 30th June
see below
10.00am to 12.30pm
Online Event
Share
Learn skills and gain confidence to assist people experiencing Mental Health Problems.
The Blended Online MHFA Community Course is adapted from Standard Mental Health First Aid Course for adults and teaches participants how to assist a friend, family member, or other members of the community who is developing a mental health problem or experiencing a mental health crisis.
When: 10:00am-12:30pm Tuesday 23 June & Tuesday 30 June.
Cost: $220pp
Phone: Joyce on 9237 8900 for other queries regarding the course or email Training@mifwa.org.au.
Course component 1: Self-paced interactive eLearning
Course component 2: Instructor-led video conferencing (2 x 2.5 hour sessions)
Course component 1 – Self-paced interactive eLearning
Developing mental health problems covered:

Depression
Anxiety problems
Psychosis
Substance use problems

Mental health crises covered:

Suicidal thoughts and behaviours
Non-suicidal self-injury
Panic attacks
Traumatic events
Severe psychotic states
Severe effects from alcohol or other drug use
Aggressive behaviours.
Course component 2 – Instructor-led video conferencing (2 x 2.5 hour sessions)
This course component allows participants the opportunity to revise and consolidate practical skills in a group environment.
In this training, delivered over video conference from wherever you are, the focus is on the revision and application of knowledge and skills learnt in the eLearning component.
The video conferencing includes large and small group activities, providing participants with the opportunity to:
Revise the eLearning content and the MHFA Action Plan
Clarify any points of uncertainty remaining after completion of the eLearning modules
Apply the MHFA Action Plan to relevant scenarios
Discuss and reflect 'a where to from now' in using mental health first aid skills
Develop a self-care plan to maintain good mental health.
Further Information
Although most people who attend an MHFA course feel very positive afterwards, for some it may bring on some unpleasant feelings, particularly at times of great stress. It is best to do the training when you are feeling well, but in case you find yourself feeling upset about anything in the course, the following document includes:
Ensuring you have someone to talk to about the content if you need to
Contact phone numbers for counselling and crisis services
Information about what to do if you begin to feel upset during the training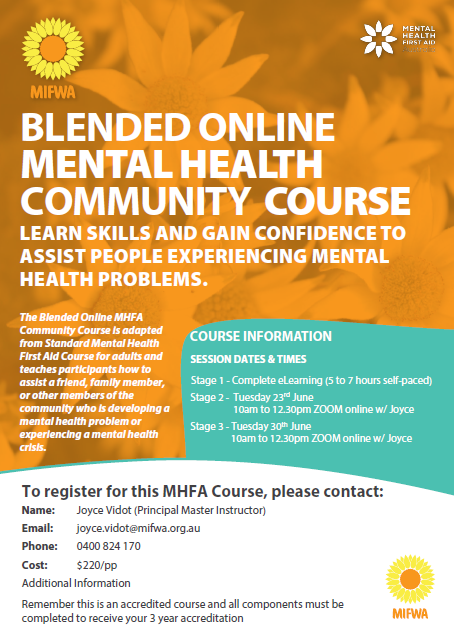 ---
Event Categories
Back to Events