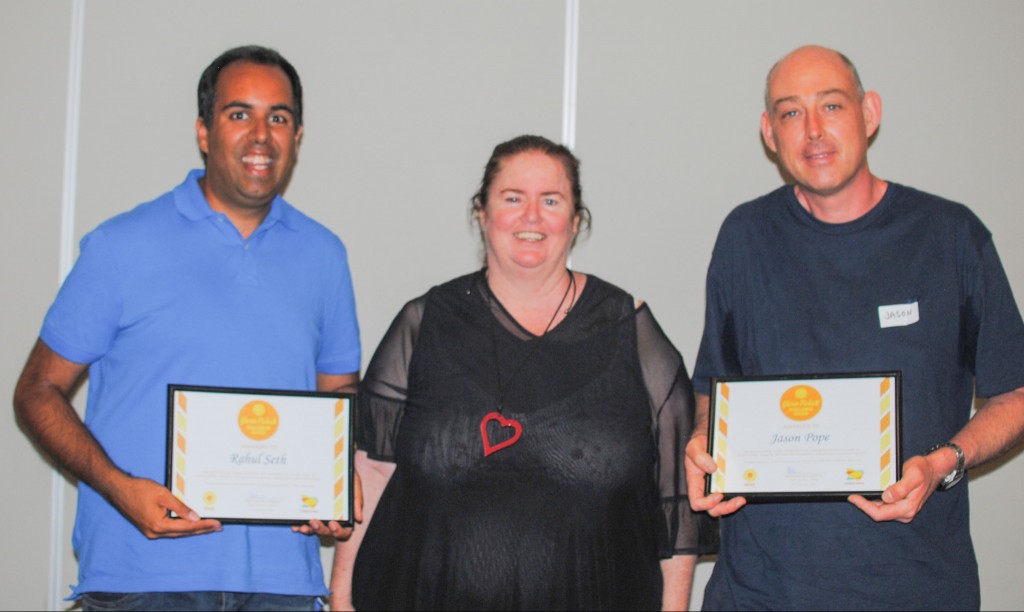 Congratulations to Jason and Rahul who were the winners in our 2022 Glenn Pickett Sunflower Awards.
The Glenn Pickett Sunflower Award is an annual celebration of individuals who have demonstrated 'gentle leadership' qualities. It's awarded in the honour of Glenn Pickett, a Lorikeet member and Mental Illness Fellowship of WA (MIFWA) Board member who passed away in September 2019.
The Glenn Pickett Sunflower Award recognises and rewards the achievements of Lorikeet members and MIFWA employees as they embody MIFWA's values, including accountability, integrity, inclusion and acceptance, collaboration, and empowerment.
With two awards on offer – Lorikeet Member and a MIFWA Staff Member –  the 2022 Glenn Pickett's Sunflower Awards were presented to Jason Pope and Rahul Seth. Congratulations to both of you!
Lorikeet Member – Jason Pope
Jason is very kind and gentle to everyone at Lorikeet including staff and members and he never hesitates to help out. Jason displays many qualities of our dearly missed Glenn. From his caring nature and willingness to jump in and help out at Lorikeet and displaying the true nature of this natural gentleman status. He welcomes all new learning opportunities with an open mind and gives support to other members who may need it. Jason listens intently and gives everyone their space to voice their point of view and ideas.
Jason is always open, warm, kind, positive, engaged, and enthusiastic. He leads by quiet example, active participation in activities and through personal connection with others at Lorikeet. I am awed by Jason's self-awareness and his commitment to his recovery journey.
A keen and accomplished artist, he has identified art-making as an important factor in his recovery. He is respectful of everyone. He is a positive role model to other members and staff and is quite inspirational in his recovery journey and shares his personal insights and knowledge with others for their benefit.
He works hard to always better himself and have a positive influence on others. He is a breath of fresh air and is a highly valued member of the centre and his contribution is appreciated by all.
Staff member – Rahul Seth
Rahul holds MIFWA values as part of his work (accountability, integrity, inclusion and acceptance, collaboration and empowerment) and has been showing all aspects of these values while supporting participants – these include his creativity in empowering participants; accepting weaknesses of self and others, being open and honest with his approaches; always keeps himself accountable and communicating well with support networks.
---
Share
Related Categories
Back to our Blog