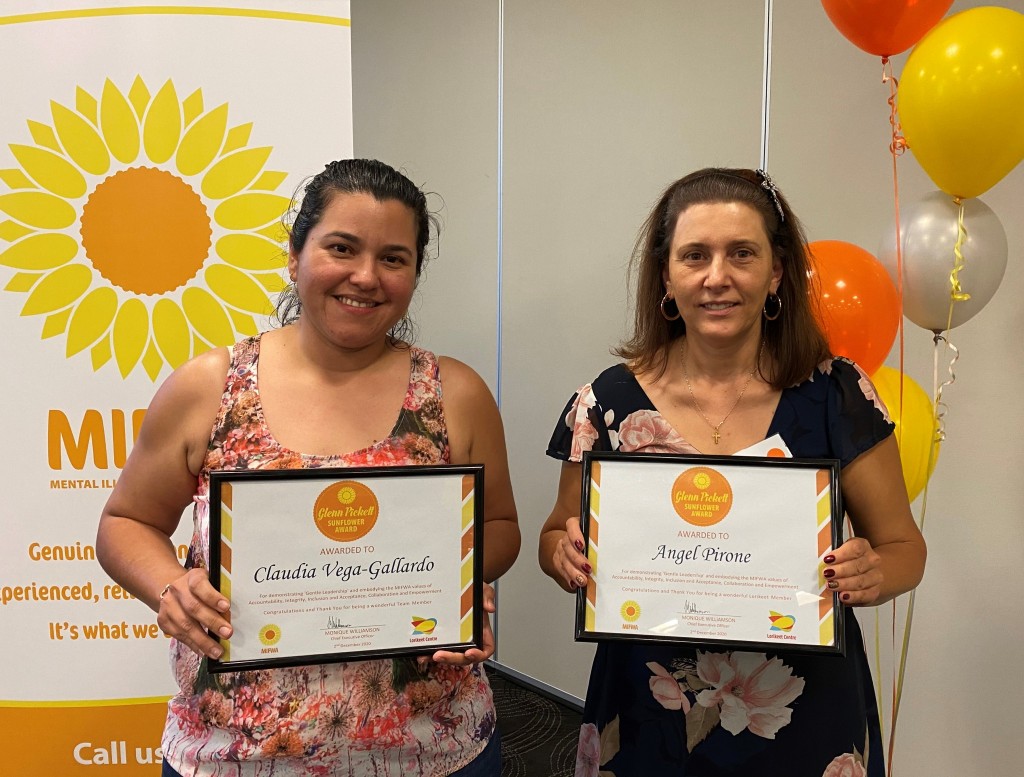 Congratulations to Angel and Claudia who were the winners in MIFWA's inaugural Glenn Pickett Sunflower Awards.
Celebrating individuals who demonstrate gentle leadership qualities, the Glenn Pickett Sunflower Awards, established in 2020, recognise and reward the achievements of those who embody the MIFWA values of accountability, integrity, inclusion and acceptance, collaboration, and empowerment.
With two awards on offer – Lorikeet Member and a MIFWA Staff Member – the awards were presented by Glenn's sister, Kerry, at MIFWA's 2020 AGM in front of a room of friendly faces and supporters.
About the Winners
Angel, a member of MIFWA's Lorikeet Centre, was recognised for being a helping and friendly person who provides others with good advice to help them solve their problems. She always has friendly smile on her face, is loving and caring, and makes people feel really welcome at Lorikeet. Outside of Lorikeet, she likes to lead and organise outings for the other members and to have fun.
Claudia, a team member at Lorikeet Centre, was awarded for demonstrating gentle leadership qualities through being a positive role model. Gentle, respectful, and calm, and with a gentle compassionate spirit, she encompasses the MIFWA values in her everyday duties at Lorikeet and in life. Claudia shares the same humble and quiet presence as Glenn, is a great cook, and runs Spanish and healthy eating classes at Lorikeet.
We would also like to congratulate the following people who were also nominated by their peers in the awards:
Lorikeet Centre Members
MIFWA Staff Members
Denise
Evan
Tony
Sharon
Samantha
We are proud of you all and thank you from the bottom of our hearts for everything you do.
About Glenn Pickett
Glenn Pickett was a longstanding supporter and member of the Lorikeet Centre and served as a Board member for many years. A passionate advocate for MIFWA and the development of new service approaches, Glenn had a gentle way about him, a way of putting people at ease, and was always willing to pitch in and assist. At the Lorikeet Centre he assisted in many areas however nurturing the Centres plot at the local Community Garden was what he loved most.
Glenn passed away following a short illness in 2019, and his loss was deeply felt by many across the MIFWA Community. Our aim for this Award was to honour him, to ensure his legacy lived on, and to demonstrate what he meant to us all.
---
Share
Related Categories
Back to our Blog