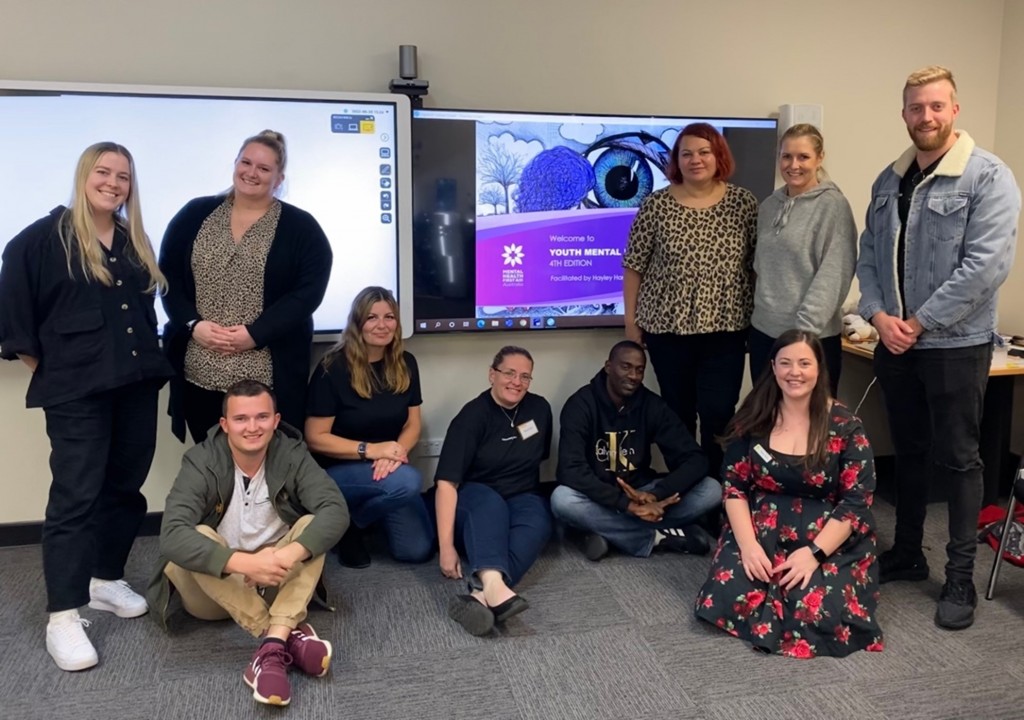 Join MIFWA in congratulating our Mental Health First Aid trainer Hayley Harris (front row far right in the photo above) for having reached two significant Mental Health First Aid milestones. 
Hayley, who recently achieved Principal Master Instructor status with Mental Health First Aid Australia, has now delivered more than 50 Mental Health First Aid (MHFA) courses, while her 52nd course held recently in Midland — the Youth MHFA course — marked her fourth anniversary since completing her training to become a Mental Health First Aid instructor. 
A participant from the recent session said: 
"Hayley was informative and very knowledgeable across all aspects of the course. She was engaging and easy to connect to. One of the best presenters I've ever had at a course."  
Another said it was "one of the best and most relevant courses I have ever done to assist me in my teaching position." 
Participants were from a range of occupational backgrounds, including school teachers, school administration staff, YouthCARE chaplains, a community engagement facilitator from Aurora Foundation, a provisional psychologist, a student on placement with MIFWA and a MIFWA staff member, Michael.  
Michael works in MIFWA's Active Recovery Team (ART) as a Senior Recovery Worker. His role involves engaging with young people (16-25) who repeatedly present to the Emergency Department and are linked with Youth Community Assessment and Treatment Team (YCATT). In Michael's situation, he works with young people both at the hospital and within the community over a 90-day period, offering practical support to assist with their personal recovery, building independence and achieving goals.
The Youth MHFA course gave Michael additional knowledge of mental health issues and statistics, resources and tried-and-tested strategies to use in his work, such as how to assess and assist when someone has engaged in non-suicidal self-injury and how to talk to a young person experiencing an eating disorder.  
 "The YMHFA course was incredible. I thought it was run extremely well and all the content was very relevant," he said. 
 "This course equipped me with a greater and more practical skill set that I can use to help assist young people progress with their mental health recovery journey." 
 

Upcoming Youth Mental Health First Aid dates:

The Youth Mental Health First Aid course is open to anyone who wishes to learn the signs and symptoms of common mental health problems experienced by young people, what sort of help has been shown by evidence-based research to be effective, and how to provide mental health first aid in a crisis.  

Book your spot for: 
---
Share
Related Categories
Back to our Blog