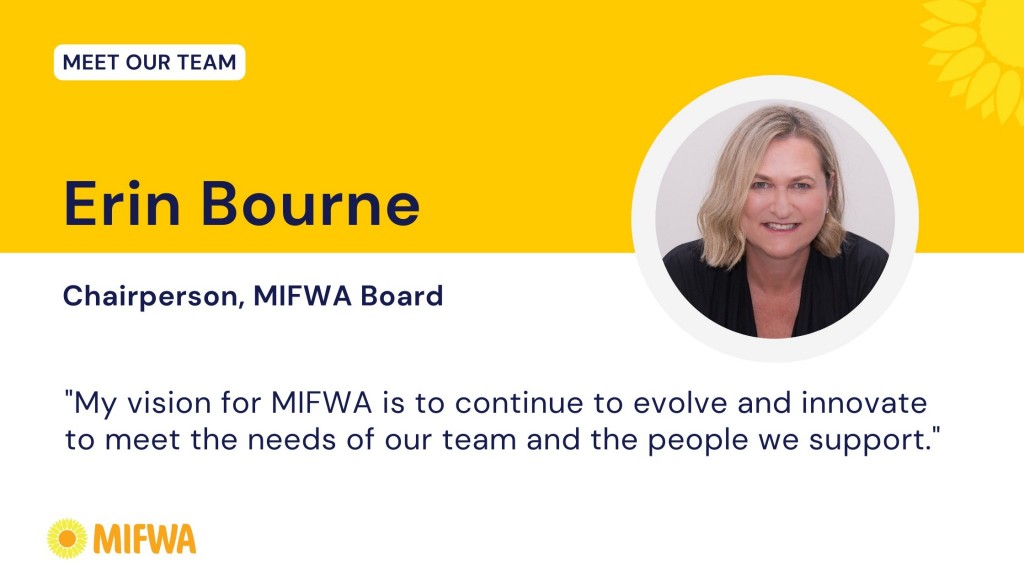 We're excited to introduce to you our new Chairperson, Erin Bourne.
Erin has sat on the MIFWA Board since September 2017, serving as Deputy Chairperson from September 2021 to January 2023 when she was appointed Chairperson.
In this spotlight interview, Erin outlines her experience, contributions to the MIFWA Board, and her vision for MIFWA's future.
What's your background, and how does it help your role on the board?
I've had a diverse career, working across marketing, communications, social performance, strategic planning and environmental, social and governance (ESG) in several industry sectors. 
For the last six years, I've run my own consulting business – Collage & Co – working on various projects with large businesses, including South32, Newcastle Permanent Building Society, WESCEF, Farmer Jacks and Woodside. I am currently supporting a renewable energy business in stakeholder engagement and communications which is very interesting.
Prior that, I managed large scopes of work in Social Investment for Chevron, an international Energy company, and Alcoa, a resource company. Two of the more interesting roles I held were as Marketing Manager for The Australian newspaper, and as International Events Manager for Anthony Robbins, the well-known personal development speaker. 
I bring commercial acumen to the board.
I'm passionate about sharing the principles and practices of ESG and sustainability with businesses and not-for-profits.
What do you enjoy the most about your role?
I'm constantly thinking about how we can steer MIFWA to be the best we can be; from our team and the culture we build, to the support we provide and most importantly, the opportunity for people to stretch and grow no matter the role they work in. 
I also think about this in terms of how our stakeholders view and interact with us – around the people we support and partner to live their best lives, our funders that provide the finance to help us with our mission, and our peers in the mental health space.
I also enjoy making sure the governance of MIFWA is of a high standard, and our decisions are made by having a talented team on the board. This role is a privilege and a big responsibility. 
What else are you passionate about?
I'm passionate about sharing best practice to lift everyone we can.  Also about being empathetic and kind – considering different points and view.  And finally empowering people to speak up and make a contribution.
What's the best advice you have received, and how has it impacted you?
My school motto was "If it is to be, it is up to me". That is how I like to think about my energies and responsibilities.
 What's your vision for MIFWA's future?
My vision for MIFWA is to continue to evolve and innovate to meet the needs of our team and the people we support.
 We are good at what we do, but I think more people need to know about us, the people we support and what else we can do to help people live their best lives. I want us to be a contemporary organisation – proud of the past but, most importantly, excelling in our current work.
---
Share
Related Categories
Back to our Blog