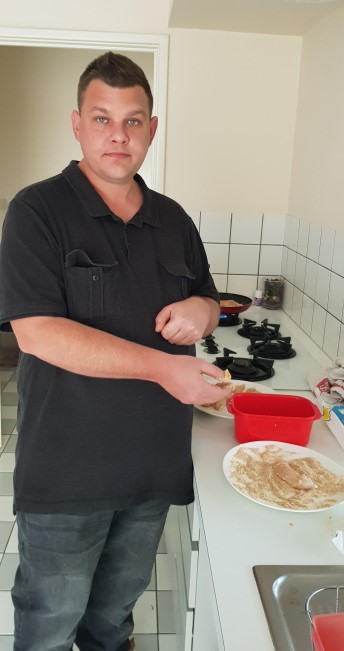 A place to call home and an active life
Luke comes from a loving supportive family who are important in his life. Almost 5 years ago he and other members of his family moved from North Queensland to WA. Luke (and his family) wanted a home where he could be supported to build his independence.
He found his way to MIFWA early in his move to WA and needed a service provider to support him (initially through Mental Health Commission Individualised Community Living Service and later the National Disability Insurance Scheme – NDIS). Luke and his family met with several providers weighed up their options and finally chose MIFWA.
Luke has a home to call his own and a place to entertain and feel safe.
He has a little support a few days each week to help him keep on top of maintaining his house and lifestyle.
Over the last year or two, supported and encouraged by his enthusiastic support team and family, he has been very active and this is really making a difference to his physical health and energy levels. Here are "before" and "after" photos of Luke showing how much younger and fitter he now looks. The first photo was at an "Odd Socks Day" event in late 2016 and the second is of him cooking at home last month. Luke is a member of the Lorikeet Centre, and has made great progress with his fitness and weight we thought it would be good to celebrate with a newsletter article.
There are quite a few things Luke is doing to help his fitness and in total, he has lost 20 kilos.
His regular activities include Wednesday trips to the gym where he uses the various exercise machines and weight lifting equipment, and Thursday trips to Altone Leisure Park for freestyle swimming which takes about 45 minutes including breaks.
Then there are the fun and varied Lorikeet outings on a Friday which often include a fair bit of walking. A return visit to the Lorikeet Centre by bus and train from Luke's home involves a total walking distance of over 4 kms and, of course, every bit helps.
Other days he and his support team find excuses to walk further than they might otherwise, such as walking to the local shops for cooking ingredients or selecting a more distant parking space when shopping or going for an appointment.
His MIFWA support also includes assistance with cooking, as in the photo above, and there is an emphasis on healthy ingredients, vegetables and chicken.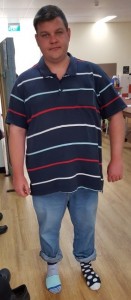 Luke before his weight loss
---
Share
Related Categories
Back to our Blog