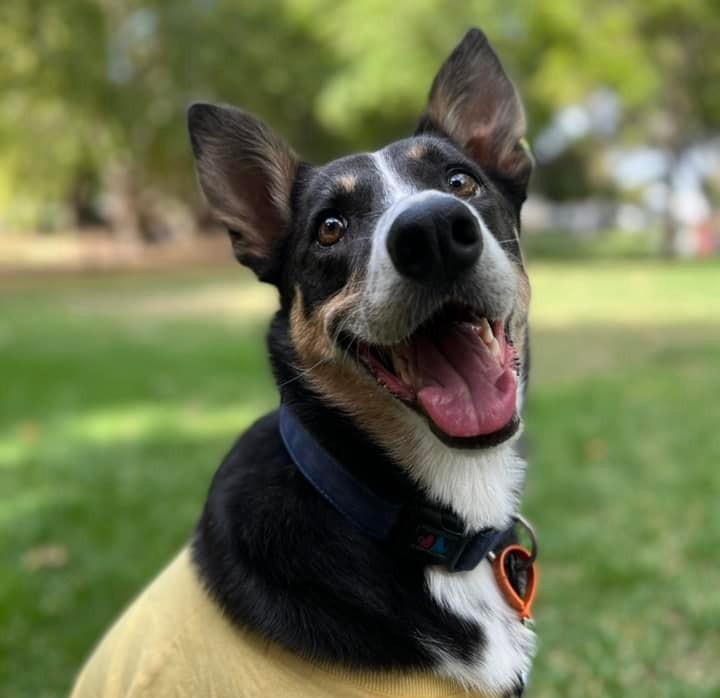 It's a well-known fact that dogs make great companions. Dogs can provide us with a whole lot of unconditional love. They can also help to make us feel happier by easing loneliness, stress, anxiety, and depression – which means dogs are great for our mental health!
Loki, a six-year-old kelpie cross who also responds to cheeky nicknames like Loki Poki, Loko and Chopsy, is one of them. Born and bred in WA, Loki has been a therapy dog since 2017 after her new mum and handler Tara Lord, 23, adopted her from SAFE Bunbury so they could work together through Kupu Kupu Australia, the Animal-Assisted Therapy project initiative that Tara founded that same year. Although therapy dogs like Loki are popular and successful overseas, they're still rare in Australia.
We recently sat down with Loki to interview her about her career as one of WA's first accredited and certified therapy dogs, what's involved in animal-assisted therapy, and why organisations like MIFWA are keen to let her hang out in their offices and support their teams who support people living with mental illness.
Thanks for joining us, Loki. So, what does a therapy dog do?
Woof! A therapy dog's job is to provide comfort and smiles to others. There is scientific research behind how even patting a dog can release oxytocin (love hormone) and reduce cortisol (stress hormone).
So how is that different from being an assistance dog?
I'm a therapy dog who visits facilities and different people and provide support, as opposed to being allocated to a specific person for a specific reason for my lifespan.
When did you realise you wanted to be a therapy dog?
I have always loved cuddles and making people smile. When I found out I could do that as a job, I was like 'SIGN ME UP!'
"People have said they like working with me because dogs don't judge people…"
What training did you have to do to become a therapy dog?
I had to do lots of obedience training, and training that replicated situations I might be in. For example, I learnt to be around walkers and wheelchairs, I learnt to be around loud noises and tell the difference between a threat and someone being excited. I learnt not to be aggressive when people are being playful, and much more.
How did you and Tara become certified as a therapy team?
Tara and I attended a training called Lead the Way which is in Victoria. It was a bit tricky because we had to get ourselves over there. But it was well worth it with the difference we can now make for people!
Give a quick overview of how you work with people living with mental health issues.
What our sessions look like is different every time, for some people we go to the park or play ball. For others Tara and I go with them to do their shopping or on some adventures because they wouldn't normally get out of the house, and for others sometimes it is pats and a chat with mum!
"Some say I act as a security blanket and make them feel less anxious when performing everyday rituals…"
Why do people living with mental health challenges choose to work with a therapy dog?
I find that people have said they like working with me because dogs don't judge people, and I make them smile. Some say I act as a security blanket and make them feel less anxious when performing everyday rituals that may seem easy to others but are hard for them. And some say I am their friend.
What do people say about your impact on them as a therapy dog?
Hearing people's feedback about my visits is always so warm and fuzzy. We have had people who have said we have saved their lives or made them smile for the first time in a long time, it is lovely!
How has the COVID-19 pandemic impacted your work?
We could not do a lot of visits due to restrictions and due to a lot of our clients being immunocompromised! However, we did set up face time sessions!
"People said we have saved their lives, or made them smile for the first time in a long time…"
What do you do outside of work?
Woof! I love to play fetch, and love to hang out with my kitten sisters and all my doggie friends.
How do you set boundaries between pet life and therapy dog life?
I know that when my work jacket goes on it means work. And when it's off it means play and relax time.
What is your favourite myth about therapy dogs?
A lot of people cannot imagine why a dog would be useful in therapy. We love to prove them wrong by all the awesome people we get to meet and have an impact on.
What has been the high point of your career so far as a therapy dog?
Mum and I are always inspired by people's stories. They have been through so much darkness but still smile and try and bring light to the world. That should be a lesson for everyone that there is no excuse for being unkind, and in a world full of darkness, be someone who shines light.
What has been the funniest moment of your career as a therapy dog?
Mum says I am ball obsessed! I just love playing fetch and grabbing things for people to throw. When I was at my therapy dog course, we were learning to get used to walkers. Now for those who don't know… sometimes walkers have halved tennis balls on the bottom of the wheels, so they don't slip. I didn't know this and thought they were for me to play with! So, I went to grab the ball and accidentally flung the walker. Oops! Luckily, there was no one using the walker, and everyone found it hilarious. I learnt very quickly they're not for me to play with and now can work with walkers fine.
—
More about Kupu Kupu Australia
When she launched Kupu Kupu in 2017, Tara had already worked in various roles in the mental health sector. Her current roles include peer service coordinator with us at MIFWA, and Youth Ambassador with the Mental Health Foundation of Australia. She has also been nominated for various awards, including most recently named the 2022 Young Citizen of the Year in City of Stirling's annual Australia Day awards and became a finalist in 7NEWS Young Achiever Awards WA. Tara and Loki have empowered many people living with mental illness, disability, or recovering from trauma. Although they're based in the City of Stirling, they often travel outside Perth metro for work.
If you'd like to find out how Loki can work with you or someone you know, connect with Tara on Instagram and Facebook.
---
Share
Related Categories
Back to our Blog