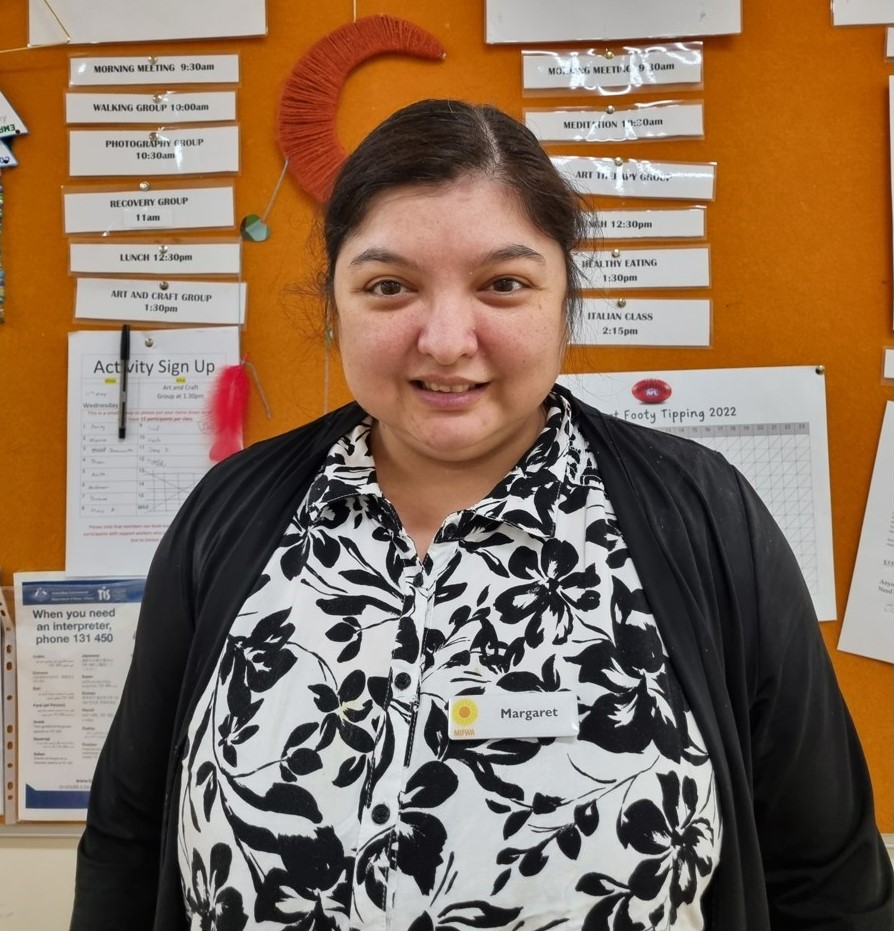 Margaret joined the team at Lorikeet Centre in November 2021 as a volunteer on reception at a time when we had reached capacity and needed extra support.  
We had experienced an influx of requests to join the centre, including requests from people who were discovering Lorikeet Centre for the first time. We welcomed new faces as people started to reach a milestone in their recovery journeys where they felt comfortable making new friends and trying new things. 
In our search for a volunteer, we had been looking for someone with lived experience of mental health challenges and a personal journey of recovery. Someone who was friendly and able to greet members and visitors and make them feel welcome during their visit. COVID-19 restrictions added a whole new layer to the reception role, but Margaret, who had experience of reception, administration, and engineering, as well as a lived experience, was the perfect candidate. 
Since starting her role, Margaret has assisted at the front desk as the first point of contact for our members and other visitors as they call for information or attend their activities. While volunteering with us, Margaret has also contributed ideas to help us improve what we do at Lorikeet Centre. This is a great opportunity, as we're able to get feedback from a volunteer's perspective. 
Our members and staff say she's very approachable, kind, always ready to help and makes them feel welcome.  
"Volunteering here has given me confidence to work towards paid employment…"
We recently asked Margaret to talk about her experience volunteering at MIFWA. Here's what she shared with us: 
"As part of my recovery, I needed to find something with a purpose. I was getting better, and as I had spare time, I applied through the MIFWA head office and started volunteering that way.  
Lorikeet Centre is very social, interactive. You get to meet lots of people. The atmosphere is 'happy', you can feel the energy — it's quite upbeat.  
One benefit of volunteering at the Lorikeet Centre is I've been learning Italian. Tony, a Lorikeet member and volunteer, teaches us Italian. I'm enjoying it. I've also been participating in and supporting some art and craft groups. 
It's a great place to work. I feel very welcome and supported. Volunteering here has given me confidence to work towards paid employment, so I'm doing a little bit of paid employment three hours a week at the MIFWA head office.  I see myself volunteering and working with MIFWA for quite some time.  
I want to say thank you to MIFWA and the team at Lorikeet Centre for a great opportunity!" 
Margaret, thank you so much, your role and lived experience are very important for our activities at Lorikeet Centre. We are grateful to have you on our team. Your work helps other members on their recovery journeys, and that's what MIFWA loves to see. 
More about Lorikeet Centre
Want to know more about volunteering at Lorikeet Centre?  
Meet our Volunteer Coordinator, Joyce Vidot 
Submit your interest to become a MIFWA volunteer 
---
Share
Related Categories
Back to our Blog