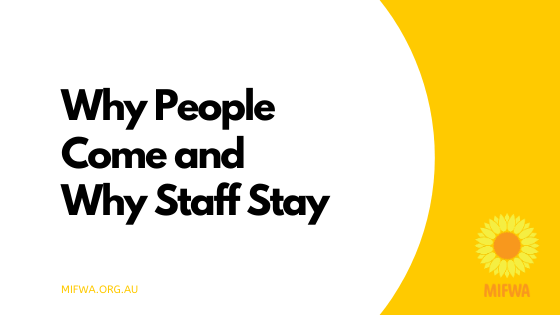 Mental Illness Fellowship of WA (MIFWA) is proud to be a welcoming, inclusive and accessible organisation offering a warm and friendly environment where people can learn, contribute and access supports tailored to the individual.
However, we cannot deliver on our mission without our team.
In this series, we'll introduce you to some of the MIFWA team, dedicated and passionate people focussed on supporting people who have experienced mental illness, as well as their families and carers.
My name is Jett, and I'm a Community Mental Health Worker with MIFWA.
I've worked at MIFWA for about four months.
My job as a Community Mental Health Worker is about supporting people living with mental illness and their ability to live independently, assisting them in achieving their goals and being a cheerleader as they take one step forward.
What attracted you to work with MIFWA?
Well, the position found me in a way. I was at a wedding and someone who worked for MIFWA was also there. We got talking about work and I mentioned my interest in supporting people with mental illness. They told me MIFWA were hiring, and recommended I apply. So I emailed in my resume with the other documents that were required, got interviewed the following week and hired. It was one of the happiest moments.
What were your first impressions of working at MIFWA?
The team at MIFWA were really helpful when I started. They were always checking in to see how I was doing and if I was okay. They were also very understanding – moreso than I have ever had from past employers.
What are some of the challenges you have faced in the role?
One of the challenges I first experienced was related to the people I supported and not always being aware of their background, including their mental health issue. I felt I couldn't help due to not understanding their background. Learning about establishing boundaries was also an initial challenge.
I found MIFWA very helpful when I wasn't sure of a situation. They would tell me what to do in that scenario, share with me any helpful advice they could give, as well as tips on what to do next time.
Describe your experience of working with MIFWA in 3 words.
Respect, loyalty and understanding.
Why do you think it is important that MIFWA promotes mental health awareness in the wider community?
I think it's important to reach out to the wider community to promote mental health awareness so people feel supported and heard, and so we can reach out to anyone who needs support from our services. We need these types of services more than ever at this point in time.
Working with MIFWA
Learn more about why people choose to work with us and the type of work that is available. Hear about the challenges and opportunities. Learn more about peer work and its critical place in our organisation. Read more.
---
Share
Related Categories
Back to our Blog