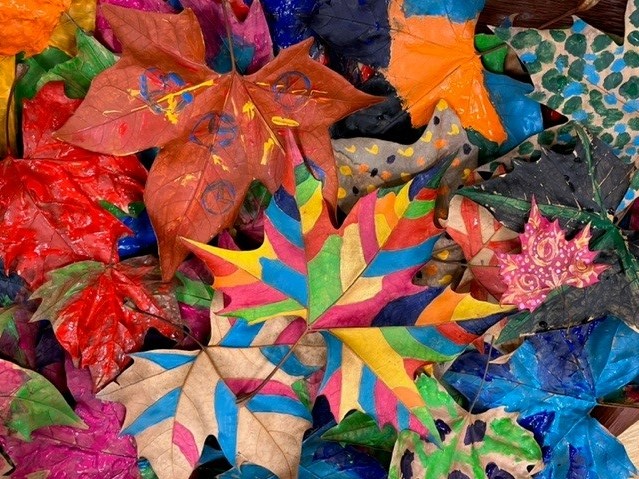 This article was written by our amazing art therapists Renita and Lizzy. 
It's become a tradition at Lorikeet that as Autumn draws to a close and we move into Winter, we gather up some of the last of the fallen leaves and transform them into beautiful artworks.
After taking some time to share and appreciate them, we surrender them to the cool wind to gently fall apart and become part of the earth once more – or to be found by a passing stranger as a surprise gift from the universe.
In Spring, trees bud and sprout new leaves. The new bright green leaves are soft, tender, and easily damaged but they open anyway because that's their job! Slowly the leaves grow, darken and thicken to provide shade and shelter for people and animals through the long, hot Summer.
By the time the first cool winds of Autumn arrive, the leaves have browned and become brittle and fragile, their connection to the tree becomes less secure until finally they let go and gently float to the ground. The tree doesn't mourn the loss of the leaves in Autumn or worry during Winter that it will never grow new ones. It wisely lets them go at the right time to disintegrate and provide food for the tree so that as the weather warms again in Spring it will have the energy to begin the process again.
We can learn a lot from the wisdom of the tree which lives completely in flow, not fighting against the things it cannot change. After talking a little about this process and sharing stories of how it feels to live in flow – and how it feels when we try to push back against the tide, we spent a couple of happy hours painting, making each plain, brown leaf a small canvas for a unique artwork.
The finished leaves were piled high – a wonderful, joyful rainbow of colour that provided a gorgeous table centrepiece at Lorikeet for a few days.
The following week we carried the painted leaves to the park. Some escaped on the way, others we tucked in the playground.
Still more were thrown up into the clear blue sky. We let them go like the trees let them go – without fear – some will simply fall apart, others become a gift to a passer-by.
It was a joy to paint them, a joy to release them and a joy to be in flow. There will be more leaves in Spring.
About Lorikeet Centre
Lorikeet Centre has been supporting people living with mental illness for 27 years. The centre is underpinned by the importance of peers, providing a place for people to go without judgment, and to be set up with supports if they are in need.
Lorikeet Centre is located at 104 Cambridge Street, West Leederville 6007. To find out more, call us on 9237 8951.
---
Share
Related Categories
Back to our Blog