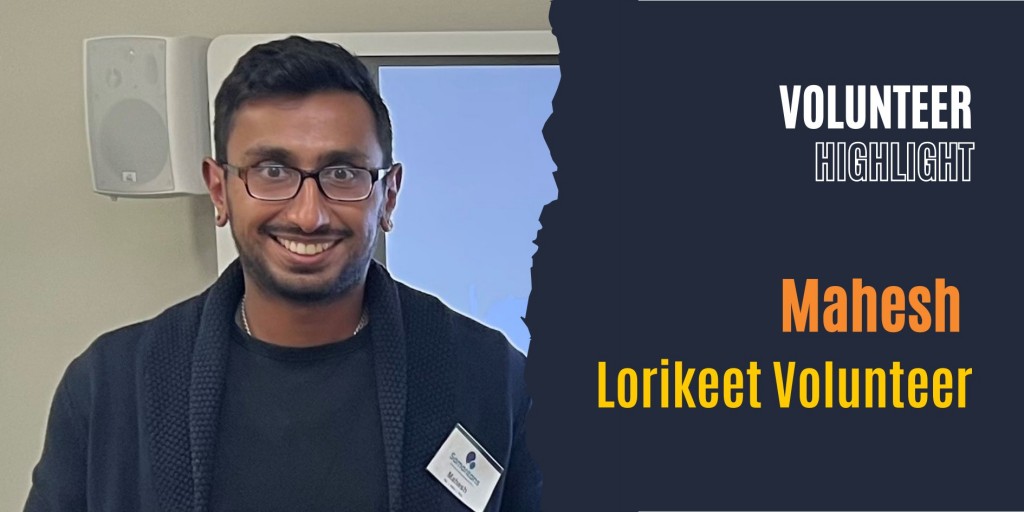 It's National Volunteer Week and a time to celebrate the positive contributions our wonderful volunteers are making to Lorikeet Centre. Mahesh is one of the volunteers who are helping us make a difference. This is his story.
---
How I started volunteering at Lorikeet
I was first offered the opportunity to volunteer at the Lorikeet Centre through a collaboration with another organisation named Samaritans. Having first visited the Lorikeet Centre on the 20th of July 2021, I was impressed by the warmth many of the members showed me, leading to me feeling welcomed immediately.
Whilst I was able to connect with most members myself, Denise and Clayton were always happy to introduce me to members when I was nervous initially and have always been available should I have any questions or concerns. The combination of these factors, amongst many other positive qualities of both the Lorikeet centre and its staff and members, have motivated me to volunteer Tuesday afternoons weekly since July 2021.
What I do at the Lorikeet Centre
My volunteer role varies depending on the day, but mainly consists of having confidential emotionally supportive conversations with members should they require them.
Some concerns that members have required support with include loneliness, feelings of depression and anxiety, grief, loss, addiction and existential concerns such as the meaning of life amongst many others. Whilst members do not require support most of the time, I connect with them through a range of activities such as general conversations and games of either Uno, chess or pool.
I have also given a few different group talks reminding members of the support the Samaritans call line can offer whilst they aren't at the Lorikeet Centre and have facilitated wellbeing and self-esteem group classes on various topics such as mindfulness, vulnerability, courage and habit-building. I have learnt a considerable amount from the diverse backgrounds and life experiences that all of the members have shared with me and am truly grateful and honoured to have the opportunity to listen.
How volunteering in mental health changed how I look after my own mental health
Volunteering in mental health has allowed me to cultivate gratitude, a skill that has been fundamental to looking after my own mental health. Through interactions with the members at the Lorikeet centre, but also my own life experiences, I have learnt that life can be challenging and unpredictable at times, and being grateful has been a protective factor against these challenges for many of the members at the centre and for myself.
In order to be able to listen attentively and support others that are experiencing emotional distress, it is important that I remain present and have the capacity to sit with strong emotions without being impacted myself. Engaging in more self-care activities such as reading and exercising throughout the week has been helpful in creating and maintaining this capacity.
Volunteering itself has also been helpful for my own mental health as it has allowed me to have an outlet to give to others but also serves as a frequent reminder that we as humans are all connected and that being kind and supporting another may motivate them to be kind and support someone else in the future.
About Me
I was born in East London, England and moved to Perth, Australia at the end of 2012. I am currently studying a Masters in Counselling & Psychotherapy and have completed an undergraduate degree in Counselling with a minor in Psychology. Through the Samaritans, I have completed various certificates such as Asist (Suicide intervention training), Mental health first aid and domestic violence alert with Lifeline. My hobbies include dance, chess, weightlifting and reading.
---
Thank you so much, Mahesh, for sharing your story. Your role is very important and your work is helping other members on their recovery journeys. That's what MIFWA loves to see, and we're grateful to have you on our team. 
More about Lorikeet Centre
Want to know more about volunteering at Lorikeet Centre?  
Meet our Volunteer Coordinator, Joyce Vidot 
Read more stories about Lorikeet Centre
Learn more about Lorikeet Centre
---
Share
Related Categories
Back to our Blog