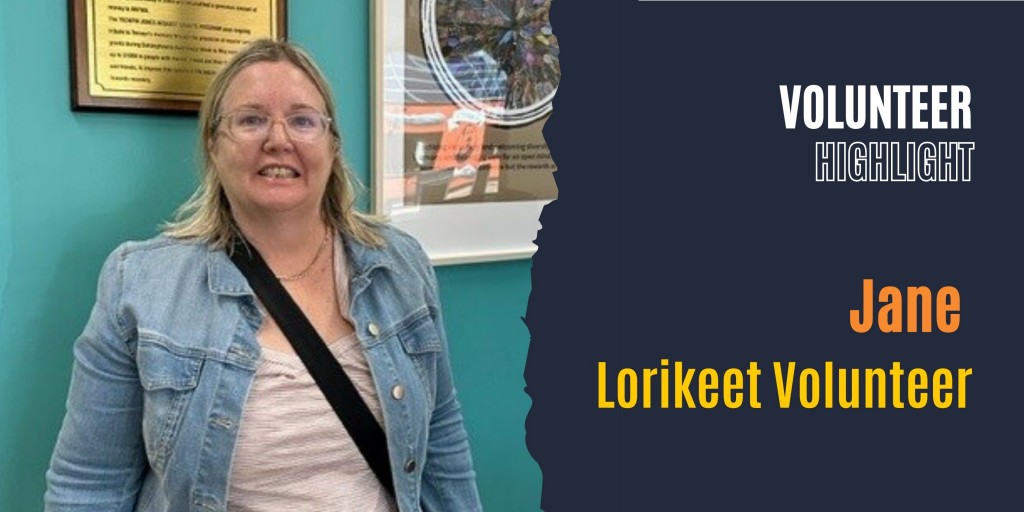 Jane has been volunteering as a receptionist at Lorikeet Centre. She's often the first person to welcome and assist her fellow members as they arrive for our Thursday activities. As part of our celebrations for National Volunteer Week, Jane is sharing her story, including the benefits she gains from being a Lorikeet member and from giving back as a volunteer.
---
I started coming to Lorikeet two years ago. I was suffering from schizophrenia and hearing voices and they were making me being inactive. I was just staying at home. So I went back to my psychiatrist and we came up with going to Lorikeet and Hearing Voices groups.
And it's been fantastic. She helps me get organised. She's been a shining armour. Lorikeet has given me a great outlet to meet people and to socialise, and become more informative during conversations. I like meditation, yoga. Chair yoga.
On Tuesdays I do self-esteem and wellbeing. Last year we went to Rotto, went to the museum, and I went to York one time. Before Lorikeet, I wouldn't be able to do any of it. Going on outings with people. Well, you're not alone. You're with people that know. It's an organised outing. You wouldn't be able to do that if you're just sitting at home on your own.
I then started volunteering on the reception on Thursdays as part of being active and to have brain stimulation. It's for your sanity really. You know? And to work a bit. It's a fantastic opportunity for me. The support here is complimenting, because here you're dealing with people who aren't well.
So, I'm getting more experience. Family has been fantastic to me. They get the best out of me, too. It's just a combined package. Family support as well as support here at Lorikeet. Because leading up to me coming here, I didn't know about Lorikeet or Hearing Voices. I didn't know there was help out there. And there is. It's brilliant.
I want to continue volunteering and go on more outings on Fridays. All that is free, so it's good to be able to put back in. I think it's very important. If you can do it, put back into Lorikeet.
I feel more confident. In particular, outside Lorikeet. I'm not that bad! Suffering from Schizophrenia and hearing voices, coming here makes me feel more alive, more energetic.
Go to Lorikeet, it's a fantastic place to meet new people. They have great programs in place. It's a great outlet. You're not alone.
---
Thank you so much, Jane, for sharing your story. Your contribution is very important and we're grateful to have you at Lorikeet Centre. 
More about Lorikeet Centre
Want to know more about volunteering at Lorikeet Centre?  
Meet our Volunteer Coordinator, Joyce Vidot 
Read more stories about Lorikeet Centre
Learn more about Lorikeet Centre
---
Share
Related Categories
Back to our Blog